Asian Desserts
Lovable by everyone and the variation is enormous


Indonesia has numerous asian desserts Recipe. And they are coming more and more each year. The recipes that I show you here is the authentic dessert, but they are forever. These are endless popular, inside and outside Indonesia.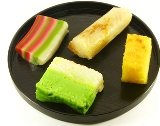 The new desserts recipe comes from the original Indonesian dessert like serabi (rice flour cake) in this days you will find many of them not in original type, but there are countless variation, just like serabi with cheese while in the old time we used to serabi oncom or serabi with just coconut milk and palm sugar, that's it.
And martabak manis, they are also new variation with coffee taste or cappuccino taste, they are delicious, but I still like the old taste, the original ones.
Here are some of the delicious Asian Dessert Recipes:
Sticky Rice Rolls or Lemper in Indonesian
One of the popular Indonesian dessert. It's sticky rice filled with ground chicken. If you're very hungry, just take one, it filled your stomach and it's really diet friendly.
Lumpia
One of the famous Asian desserts. It's not difficult to make and favorite by many people. If you have a birthday party this is one of the most suitable snacks.
Risolles
Roll snacks with chicken ragout. It is one of the favourite of Indonesian snacks. Very delicious snacks and easy to make.
Martabak manis
Sweet martabak is nothing more than a thick pancake. If you can make a pancake, you can make this martabak too, it's very easy and tasty.
Martabak Asin or Martabak Telor
This recipe is very different than martabak Manis. But it can be used as the same as martabak Manis, as a snacks. Also it's very delicious as accompanied for rice as a side dishes.
Cenil
Roll tapioca dessert which are very delicious snacks for in the evening after diner. It's welcome anytime. The sweet taste together with the grated coconut brings the taste more livelily.
Indonesian Rice Flour Cake
Cara bikang or Indonesian colorful rice flour cake is very beautiful and colorful cake. Very interesting for children eyes and above of all they would like this cake. It's sweet and tasteful with coconut flavored.
Sweet Corn Appetizer
Thiscorn snacks is delicious snacks for accompany the other side dishes or you can also use it to decorate nasi tumpeng, it makes the tumpeng more invited. It is easy to make and fast.
Indonesian Cake Flour with young coconut and palm sugar syrup
One of delicious dessert in Indonesian kitchen. Try something different with this appetizer. I'm sure your family would like it, especially on the hot summer days.
Indonesian Coconut cake
Winko Babat in Indonesian really deserve the praise because of the delightful taste. The combination of vanilla taste with grated coconut make this dessert lovable by everyone.
Indonesian Green Pancake Recipe
This Green Pancakes recipe is really one of the traditional Asian desserts. It's delicious with sweet grated coconut and not to mention the lovely green sheets that's really tasteful with pandan extract.
Indonesian Cup cakes
Or better known as Kue mangkok in Indonesian is the simplest authentic Indonesian dessert. It is delicious and it is not very difficult to make.
Indonesian tasty cake layer with corned beef
Delicious vegetable and meat savory desserts. This also one of healthy cake with some vegetable such as peas, it's lovely in combination with grated cheese.
Indonesian savory beef cake recipe
Excellent Indonesian savory cake variation. It's a whole lot different than the usual sweet cake. I use beef stuffing for this cake. Beside that this is delicious cake; I can also say that this cake is good for your diet because it contains fewer calories than the sweet cake.
Small Caramel cake with peanuts layer
Ever try this delicious Indonesian caramel cake? It's just so delightful desserts. The taste is heavenly but it's not good for your diet. This is certainly not a low calorie recipe, but it's so irresistible.
Indonesian Mung Beans Porridge
You can make a lot of delicious things with mung beans, and this sweet porridge dessert is one of them. It smells great with fresh ginger and very delightful with seasoned coconut milk.
Indonesian Savory Chicken Cake with cheese
It's another great idea of Asian Desserts for chicken cake. It's pretty unusual, but the taste is irresistible.
Nastar, Indonesian cookies with pineapple jam
It's a delightful snap through the day. If you have small amount guests in house, this is certainly one the best choice to serve.
Indonesian Green Cake Recipe
Try this attractive green cake. It is easy to make and very attractive for the children. They would love it.
Cassava cake
This cake is made from ground cassava with grated coconut and it's really one of the old and authentic Indonesian desserts. You can mostly find them in the villages or on the market. The daily morning market usually sold original Indonesian desserts and cakes. They are usually cheaper than the big desserts shop and they are really delicious.







Return from Asian Desserts to Indonesian Recipe

Back to homepage