Cake Flour with
young coconut flesh and
palm sugar syrup
(Pipis Kopyor)


This Indonesian cake flour or Pipis kopyor in Indonesian is one of the delicious Indonesian desserts. It's very refreshing and delicious, especially on the hot days this could be one of your favorite.
The taste of the young coconut brings you more to Indonesian feeling under the palm tree on the beach and relaxing. Great feeling isn't it?
And the palm sugar completed the delightful taste.
So, you can see that Indonesian desserts are endless in variation. And this is one of the delicious recipes.
Great, shall we try this recipe to make your hot days even better?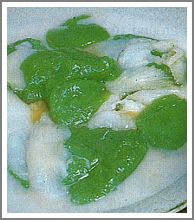 The taste is so divine


The Recipe
Preparation time: 1/2 hour
Cooking time: 1/2 hour
Serve: 5 people
Ingredients:
2 teaspoon pandan pasta
650 cc water
100 gram flour
50 gram rice flour
1/2 teaspoon salt
1 can young coconut, easy to obtain at the supermarket
200 gram palm sugar, boiled with 100 cc water. Or use kitchen molasses if you like handy and easy, this is the perfect substitute for the palm sugar syrup and you can find easily at the supermarket, while for palm sugar you have to go to the chinese supermarket
1 can coconut milk (250ml, add 125 ml water and salt and pandan leaves, bring to a boil. Remove and let it cool.
How to make it
Take a deep bowl, pour the flour, the rice flour, pandan pasta and water and a little bit salt, and stir it until the mix well blended. You can use mixer if you have trouble to mix it. It's easy and need a little effort.
Cook the mixture in the pan until boiled and thickened. Remove. Pour into little cups and let them cool.
Unmold the mixture that has already cool and put it into the deep dish. Add some young coconut and palm sugar syrup and coconut milk.
Ready to serve.
Loading
Return from Cake Flour to Indonesian desserts

Indonesian Recipe

Homepage