East Java the place of
the great beauty of nature
East Java, this province is very blessed with their beauty of nature. An area of agriculture and small villages.
In this area you'll find the greatest volcano of Java, the most beautiful and the highest peak of Java. And the lovely cities also worth of visiting like cool city of Malang and Probolinggo, the closest city of Mount Bromo.
Surabaya is the capital of this province, the most important and the busiest main seaports of Indonesia.
Like any other capital, this city is no exceptions. Hot, high traffic jam, heavy industry, shop malls everywhere. You'll hardly find the attractiveness of this city.
For the most people this city is just a short stop between Central Java and Bali. But just look behind the crowded and you might be found something interesting place to visit.
Temples of East Java can't approach the awesome Borobudur, but they have also excellent temples, small but very attractive. You'll find Singosari temples in the area of Malang, or large Panataran complex in Blitar.
The best time to visit in a dry season between April and November.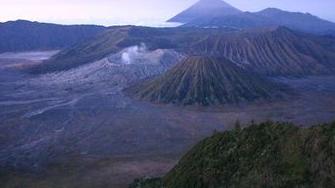 Sunrise on tengger caldera Mount Bromo




The main attraction
• Mount Bromo, the most attractive place to visit, located about 47 km from Probolinggo. The most visited volcano of Java and it has a beautiful sunrise. Do you want to know more, click here. • Ijen crater, volcanic lake with spectacular turquoise color. Located near Bondowoso.
• Mount Semeru, the highest mountain of Java. Also known as Mahameru, the great mountain.
• Purwodadi Botanic garden, located about 66km from Surabaya. Like Botanic garden in Bogor, this place is also use by many scientists to do some research for tropical plants. It has an area of 85 hectare with great collection of 3000 trees and more than 650 tropical plants from 5 continental.
• Kakek Bodo waterfall, about 51 km from Surabaya. People said that you will stay young if you take a bath under the waterfall. I'm not sure if this really working, but certainly worth of visit, it's a beautiful waterfall.
• Singosari temples, located about 11 km of Malang.
• Panataran complex, nearby Blitar, about 11 km. This complex was built during the dynasty of Brawijaya in 1200 century.
• Pacitan beach, quiet and nice beach of Java. On the south coast near the provincial border. The large bay is enclosed by the rocky outcrops of rugged cliffs.
• Pasir Putih beach, the popular seaside resort of East Java, located between Probolinggo and Banyuwangi, on the north coast road. Click here to know more about this lovely beach.



The cities of East Java
• Surabaya, the capital of the province. If you like shopping and intend to buy some clothes or anything else for your family, this city is might be the right place for you. There are enough malls so you can find anything you want.
• Malang, a lovely cool town, with great picturesque of the surrounding, and you'll find many attraction around here. If you want to know more about this city, click here. • Purwodadi, where you can find the beautiful botanic garden.
• Tretes, lovely hill town, on the slopes of Mount Arjuno and Weliurang, about 55km of Surabaya. And since the Lapindo mud in 2006 between Surabaya and Malang, Tretes has become the escape place of people from Surabaya.
• Probolinggo, the basic place of people who wants to visit Mount Bromo.
• Madura island, where you can find the famous bull races, Karapan Sapi. This island has also interesting places and beautiful scenery. But the place is not very popular among the tourist.
• Banyuwangi, the ferry departure point for Bali.


So there are enough places to explore in this province. Have a great time.



Return from East Java to homepage