Indonesian Cup Cakes
with grated coconut
(Kue Mangkok)
Indonesian traditional desserts


Indonesian Cup cakes or better known as Kue mangkok in Indonesian is the simplest authentic Indonesian dessert. It is delicious and it is not very difficult to make. You will need lots of cups to make this cake. You can use porcelain cups that you can obtain at the Chinese supermarket or aluminum cups, that's ok.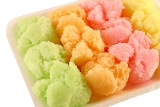 Mouthwatering kue mangkok
The grated coconut and vanilla taste play the most important part of the taste. As you have already known, coconut cake is always a warm welcome for your stomach. Especially if they are still warm, it's just so yummy.




Indonesian Cup Cakes Recipe
Preparation time: 3/4 hour Cooking time: 30 minutes For 20 pieces.

Ingredients:
150 gram self raising flour
350 gram rice flour
300 gram sugar

3 tablespoon vanilla sugar
1 tablespoon baking powder
Food coloring, red, yellow and green or any color you want
250 cc soda water
200 cc warm water
250 gram grated coconut
Salt
Instructions:
Mix the rice flour, self raising flour, sugar, baking powder, water, soda water, vanilla sugar and ½ teaspoon salt, stir it until you get a well mixture.
Divide the dough in 3 parts, if you want three colors. More parts if you want more different colors.
Add the desired color to the mixture and blend it until smooth.
While you prepare the mixture, set the steamer on fire until you get boiled water. So if the mixture ready, the steamer will be ready too.
Fill the cups that have been already oiled with the mixture about 2/3 full.
Put it in the steamer and cooked for 20 minutes. Don't open the steamer before 20 minutes or the cakes wouldn't be open like a flower.
If you have dried grated coconut, don't forget to steam it too, so you can have moist grated coconut. Seasoned first with some salt and add some water before you steam it.
Serve with moist grated coconuts.
Enjoy this delightful Indonesian traditional dessert.
I hope you like it.
Return from Indonesian Cup Cakes to Asian Desserts

Homepage