Bali beaches
The most attractive place of Bali vacations
The most attractive area for the tourist, the beaches.
Bali beaches are very known in the world for their beauty.
These are really true. There are numerous beach in Bali, from crowded beach to dream beach, from cheap to luxury.
They are really worth of visiting .. one by one.
Each beach has their own charm and beauty, and each of them seems to attract some type of people.
Like Kuta attract more young people and hip while Nusa Dua attract more family type people.
But it doesn't matter. If you are a middle age but still like Kuta, go there, enjoy it. You're free to going where you want to go, no matter what kind of type you are. Everybody is Welkom to this paradise tropical island.
Let's find out what kind of beaches has Bali
Kuta beach
The most famous of Bali beaches, located not so far away from Ngurah rai airport, and easy to reach by taxi from airport.
If you like crowded and party, you are certainly on the right place. This place attract many young people from the world, even if you're single, you are very welkom here. There are enough activity around this beach to not get boring. Find out more about Kuta here.



Sanur beach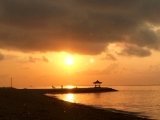 If you like nice beach with no much crowd, and like to enjoy the lovely white sand and coral, then maybe is this the place for you. This beach is attractive and the perfect place for the family to spend the holiday with calm and nice sea. Do you want to know more, click here.


Jimbaran bay
The place of excellent seafood. You want be disappointed if you like food. Jimbaran bay has plenty seafood restaurants along the coast. They are really countless. It make a nice sight and typical beach of Jimbaran. The sunset is also gorgeous and you can enjoy it while you're waiting of your order. Isn't that lovely and romantic? See here some photo's of Jimbaran.




Nusa Dua Beach
Five star luxury resort. If your wallet allowed it, it might be interesting to visit this place. There are no budget accommodation here. There are only luxury hotel in this beach. Stay here and you will get spoiled. Find out more about this luxury resort.



Dreamland beach
Truly a dream of the paradise beach. Crystal blue water, great waves, white soft sand, what else could you wish for a dream beach? Isn't that all? People say that this beach the New Kuta, but you can't compare this beach to Kuta, this is more lovable than Kuta. I think you will fall in love if you see this beach. Click here to find out more about this dream beach.



Benoa Harbor or Tanjung Benoa
Watersports fan... this is the place you have to be. This is one of the best beaches in Bali to do watersports like banana boats, jet ski, parasail..and I can assure you won't get boring here. Clik here to find out more.



Nusa Lembongan
The peaceful escape beach from the hectic of Bali. The place to rest and no hassle. Beautiful sea and magnificent scenery of Mount Agung, you will totally at your best here. Find out more about this lovely beach.



Lovina beach
The beach is quiet and tranquil, on the north side of Bali. Not much crowded around here, but still an attractive place to visit. Especially if you appreciate the peaceful place, you are certainly at the right place here. Would you like to know more about this beach, click here.


So, explore Bali beaches, they are different in their own way. Just enjoy it. Life is too short. Enjoy every moment while you can.




Return from Bali beaches to homepage