There are more behind
the crowded and the heat of
Jakarta city
Jakarta city, the biggest and the capital of Indonesia. Very crowded and the traffic is chaotic. There live more than fifteen miljoen people.
The first thing you want to do if you arrive in this vibrant city is that you want leave them as soon as possible.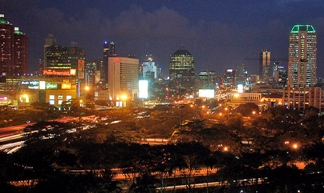 Jakarta city by night
The heat, the traffic and the humidity is the biggest enemy for the peoples who wants to visit this place.
But the key to enjoying your staying here is not to fight them but to accept them.
It's easier to spend your intention to something beautiful, because in this city, there are enormous possibility. Keep your eyes open and make your own judgment.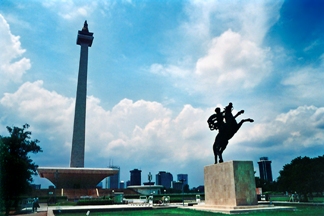 Beautiful monas national monument
one of the proud of Jakarta city
National monument, better known as Monas, one of the biggest tourist attraction, located at the heart of the town at Merdeka square, easy to reach by public transportation.
This 137m tall marble obelisk is a proud of peoples who lives in this modern city. Monas represent people's determination to achieve freedom.
Built in 1959 and open for the public on july 12, 1975.
Go to the top of Monas with the elevator, it's worth of view. At the south side you can see mountain Salak in the distance. At the north side is the beautiful sea sight and thousand island.
Avoid holidays and weekends if you want to visit this place. It's very crowded.
Traditional house of Makasar
in Taman Mini Indonesia Indah
Do you want to explore culture and tradition of Indonesia in just one day? Visit Taman Mini Indonesia Indah, means Beautiful Indonesia Mini Park.
This park reflects a summary of Indonesian culture and a mini version of each province of Indonesia.
Located at the southeast of Jakarta city. The distance from the bus station Kampung Rambutan about 3,5 km or 10 km from the airport Halim Perdanakusuma. And from the bus station Pulo Gadung about 22 km or 25 km from Gambir train station.
There are four main gates to entry this park.
If you come from the north side of Jakarta(Tanjung Priok or Cempaka putih) and from the centre of Jakarta (Gambir or Gatot Subroto), choose toll road inside of the city, then toll Jagorawi (direction Bogor and Ciawi) then you reach toll TMII, and when you're at the traffic light choose right.
From the south side (Bogor and environment) choose toll Jagorawi, and when you reach the three forked road choose right, and at the next traffic light choose straight.




The entry price for this park is IDR 9000 or $ 0.90 for 3 year and older. If you're in a group from minimal 30 person you get a discount of 10 %. If you're a student you can get a discount of 25% (So, I think I'm gonna tell them that I'm a student too, ha ha ha)
The park is open from Tuesday to Sunday from 8 am to 5 pm. On Monday is close except on national holidays. The entry price is not included for each place inside of the park. You have to pay separately. Not a really nice thought, isn't it?
This park is built in 1972 en official open on April 20, 1975.
It has an area of 150 hectares where you can enjoy the richness of Indonesian tradition.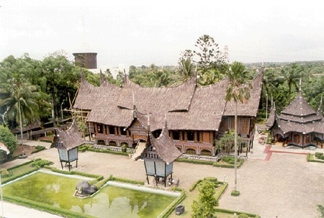 Gadang house in Taman Mini
There are also museums where you can see the history of Indonesia. The entry price for the museums lie between IDR 1000 ( US$ 0.10) and IDR 10.000 (US$ 1.00).
For the children, They don't have to be boring, there are also places where they can spoiled their energy like Children palace, Among Putro garden, Ria Atmaja Garden, or Golden Snail theater.
Also swimming pool and restaurant are plenty. The entry price for this location lie between IDR 10.000 (US$ 0.10) and IDR 60.000 (US$ 6.00)...pay again? uhhh... But the entry price is small, isn't it. It's help Indonesian people, consider them as good cause. In fact the entry price can't compare the price that you have to pay in amusement park in Europe or USA. They're really high.




There are 10 beautiful flower gardens decorate this park like orchid garden, cactus garden and much more.
So don't miss out this great opportunity to see Indonesian culture in just one day. If you visit Jakarta city make sure that this place certainly in your list.
And if you like to spend a day to amuse your family go to Taman Impian Jaya Ancol, the largest amusement park in North Jakarta city.
This place is the most popular place among the people who lives in Jakarta city. There are many things that you can do in this park, fishing, bowling, boating, steam-bath, also you can buy souvenirs like handicraft, painting at the art market.
Inside the park you can also visit sea world, a huge modern aquarium where you can see 4,000 beautiful tropical fish, 300 kinds of sharks and coral reefs. This aquarium contain 500 million liters of seawater.
For the children, don't worry , come to the fantasy world. Your children can enjoy their staying here for the whole day. I think that they won't come out from this place until you call them to go home.
If you want to do sail boats, wind surfing , jet skies canoes, Marina beach is the place where you have to be. And if you're busy doing speed boat don't forget to visit Pelangi island, about 70 km or one and half hour from the marina beach. And this island is certainly worth of visit with their sandy beach and a clean blue ocean.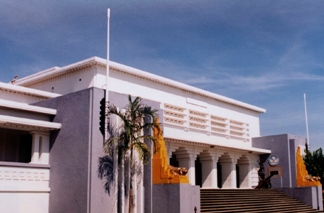 Do you like to spend a few days in this vibrant city? There is a lot to find out and if you are curious about the history of Indonesia, there are a lot of Museum, ready to explore.
Just take a view on this site, Jakarta hotels they can offer you a nice place to stay in this capital city.
Enjoy your staying.
Return from Jakarta city to homepage