Martabak manis
a sweet pancake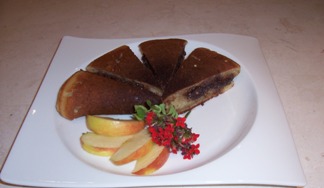 Martabak manis or sweet martabak is nothing more than a thick pancake. If you can make a pancake, you can make this martabak too, it's very easy and tasty.

Ingredients:
• 500 gram wheat flour
• 650 ml coconut milk
• 2 table spoon yeast
• 3 eggs
• 300 gram sugar
• 1 tea spoon vanilla flavour sugar
• 1 tea spoon baking powder
• Butter
For the sprinkles:
o 50 gram peanut, chopped
o 50 gram chocolate sprinkles
o 50 gram sugar
o Thick sweet milk
Instructions:
1. Cook coconut milk and salt until boiled. Set aside.
2. When the coconut milk get colder, just warm, add the yeast into it, wait about 15 minutes until the yeast smelt and foamy, set aside.
3. Take a deep big bowl, put the wheat flour in and make a hole in the middle of it. Add the eggs, and mix it together, add the mixture from coconut milk and yeast little by little while you still mix it until the mixture get smooth. Add sugar, baking powder and vanilla sugar.
4. Heat a 8 inch skillet with a little bit butter in it. When the skillet hot enough add 1/5 of the mixture on low heat. Cover the skillet until very little liquid remains and the mixture get holes scattered.
5. Open it and sprinkle the peanuts, chocolate sprinkles, and thick sweet milk.
6. Lift the edges of the mixture with rubber spatula and fold the pancake .
7. Take off from the fire and put it on the dish fat it with some butter. Cut it into 5 pieces.
8. Served hot.
Tips:
If you like more savory instead sweet, you can replace the peanut and chocolate sprinkle with some shredded cheese.
If you don't have any time to make this delicious appetizer, but you want it badly to proof it, Indonesian food mart can provide you this pancake. Even in different taste, any taste you like.

Martabak Bandung ( Keju/Cheese ) Indonesian Crepes
Martabak Manis ( Keju/Cheese ) Indonesian Crepes
Martabak Bandung ( Chocolate ) Indonesian Crepes
Martabak Manis ( Chocolate ) Indonesian Crepes
Martabak Nangka ( Jackfruit ) Indonesian Crepes
Asian Desserts

Indonesian Recipe

Homepage