West Java
Many hidden adorable place
ready to discover
West Java, a unique province with so many contrasts in the culture. This is an area where many people would be surprised that this are have a hundreds maybe even thousands beautiful and adorable place which make this region beautiful and unique in their own way.
Every cities of West java and regions has their own charm and very diverse and of course their own specialty in food (this topic is always come back in every single pages of mine, because I'm a food lover, there is nothing that keeps me away from delicious food). I try every specialty in every city, that's not wrong with that, isn't it? Lucky for me that I'm not easily fat, so that keeps me eat and eat. My motto is life is only once, enjoy it while you can, true or not?
So, enough about food, beside of the variation of food in this area, West java can offer you many historical places, natural and wild green sceneries, hiking adventure, lovely West Java beaches, amazing crater lakes and the most pleasant is the cool air temperature which can support you in the great adventure.
Adorable picture of Malabar tea plantation nearby Bandung, West Java
I never realized that West Java has so many beautiful and attractive places, some of them stay untouched by human being which make the places unspoiled and they are breathtaking. Some of them are even unpopular as a tourist destination but they are really adorable.
I have just discovered these places when I begin with this site and it intrigue me to visit these places. And I would like to share it with you. Some of the places in West Java maybe sounds weird and strange because you've never heard of them before, but the area is just too big to spend your holiday, even visiting a couple of times wouldn't be covered all of the places that you want to visit from one corner to another point of Java.
I wouldn't be able to covered all these places in West java, I'm trying, but I know there are too much to tell, so forgive me if the places you are in mind and know that they are exist not covered in this site. You can participate to make this travel site complete to other people who might need this guide. Do you want to do that? Please do, I'll be very happy to place it on my site. Please tell your story by the form below on this page…
Shall we begin with one corner of West Java and we move slowly to another part of Java?
Ok, here we go then.
---
Banten
The first and the most western part of West Java is Banten.
Banten became a province in year 2000. Before that Banten make part of West java Province. Because of the location on the western part of Java, I added this province as a part of West Java.
Banten has many great and lovely places to visit, historical buildings and a lot of beautiful beaches.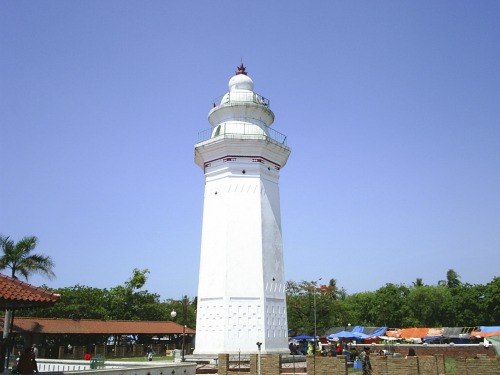 Historical Buildings:
Keraton Kaibon

, it was built for the mother of the Sultan in Banten Kingdom. In 1832 was destroyed by Dutch government. In this day you can still admire the rest of the keratin, there are only foundation and walls. But you can see that this building was a beautiful building in that time.

Masjid Agung Banten, the oldest mosque of Indonesia. Located about 10 km from serang city, the capital city of Banten province. Beautiful tower with breathtaking view over the beaches from the top.
The beaches:
Pulau Manuk Beach

, Bayah, beautiful beach, it's no crowded, so you can enjoy the silence of the beach, if you like peaceful and beautiful beach, this is the place you have to be, but please take some food with you, there are no food hawkers where you can please your stomach.

Anyer Beach

, the most famous beach of Banten, usually visited by people from Jakarta, because of the short distance, about 1 hour drive from Jakarta.

Carita Beach

, no doubt about the beauty of this beach, flat white beach with no rocks, ideal beach to swim and snorkeling.

Karang Bolong beach

, Pulorida, a beautiful beach with unique rocks that has a hole, karang means rock, and bolong means hole, so karang bolong is a hole rock, which make this rocks function as a gate to beautiful beach behind the rocks.

Tanjung Lesung beach

, soft white sand and clean beach, located in Tanjung jaya, Pandeglang.

Sarwana beach

, Lebak, the beach has their own beauty, the color of water keep changing by the time, lovely beach.

Pulau Dua Banten

or Pulau Burung means birds island. It's a natural reserve where thousands of birds comes in some months of the year, located in Kaseman district.

Labuan beach

, less popular than Carita beach, but still a lovely beach, often use as a place to cross over to Krakatau.

Ujung Kulon National Park

, this park is a must to visit if you're in Banten, really worth it to visit. It's one of Unesco world Heritage centre in West Java. It's completely a place to enjoy the outside live. It's a virgin nature.
---
Bogor
Bogor is a cool city of West Java, located between Jakarta and Bandung, famous as a city of rain. A pleasant city to visit and to live because of the short distance to Jakarta, make this place an interesting alternative for people from Jakarta as an option to stay and live at lower pace than Jakarta.
Of course Bogor has beautiful places around it.
Here are they:
Batu Tulis Ciaruteun, Stone Inscription, this is an archeological stone with inscription in Sanskrit from the time of Purnawarman, the king of Tarumanegara, located about 9 km from Bogor.
Ciseeng hotspring, (bukit kapur ciseeng) this place is really, really beautiful, I mean it, its surrounding by breathtaking view. People believed that the water that produced by the mountain with high sulphur would be able to cure some skin diseases, it won't hurts if you try it. The most natural water that produce by the mountain itself can barely harm your health, but the opposite has already been proven. Your skin can be very smooth using this sulphur water, wow.. Great discovery for women.
Curug Cilember, a beautiful waterfall, surrounded by breathtaking view. Located about 25 km from Bogor, a short distance, that would be a short drive from this city. Admire also the beautiful butterfly garden while you hear the sound of waterfall and tropical forest. A lovely place to rest and sleep. I would like to do that.
Curug Nangka, also a beautiful waterfall, around Bogor, around curug nangka you'll also find 2 another curug, Curug Kawung and Curug Daun. The location is hidden by high cliff, which can make very dangerous walking during rain seasons.
Gunung mas Tea estate, you'll find this tea farm on the road between Bogor and Jakarta, about 1 km from Puncak pass. Visit the tea factory would be the main activity or enjoy the scenic view while you drink your tea. That would be an amazing experience.
Riung Gunung, a beautiful view of tea plantation with fresh air. The distance from Bogor is about 40 km.
Salak Mountain, famous for the climbing and hiking route, not for a beginner climber. I'm not a climber so I have to be satisfied with the breathtaking view of this mountain from far. If you are a climber, it would be a challenge for you to climb this mountain.
Telaga Warna, coloured lake is a crater lake surrounded by green forest. Located in Puncak pass, in the area of Halimun national park.
Taman Safari, a big zoo located in the village Cibeureum, Cisarua. There are also playground for children, like Jatim Park in Batu, Malang, East Java.
Bogor Botanical Garden, a beautiful and lovely garden in the center of Bogor. They have great collection. It's worth it to visit. And as usual don't go on the holidays or weekend, it would be crowded.
So far is the places around Bogor. You'll find something you like around this area, there are enough activity for everybody. It doesn't matter how old you are, from young to old.
---
Cianjur
Enough about Bogor, we've come to Cianjur, an area closed to Bogor, on the main road between Jakarta and Bandung. It's famous for "manisan Cianjur", converted fruit. Very delicious, try it, I bet you will like it.
Cianjur is also surrounded by natural and beautiful environment, which of course day in and day out to discover all the magnificent places around here. Why not, it's really worth of time.
Here are the adorable places in this part of West java:
Cibodas botanical garden, you must visit this place if you love the nature. The beauty of this place is beyond description. People say that this place a paradise on earth. Curious? Plan a day out to this amazing place. Located in the village Rarahan, Cimacan, Cianjur.
Mount Gede, part of Mount Gede-Pangrango National Park. Place for hiking and climbing lovers. Are you looking for edelweiss? The eternal flower? This is the place you have to be. Edelweiss are in abundance here. And from the top you can see the cities surrounded this mountain, Sukabumi, Bogor and Cianjur.
Gunung Padang is a megalithic site. The place is full of large stone and the largest megalithic site in South Asia. This is maybe interesting place if you like archeology, but it's still a magnificent and strange place.
Istana Cipanas, located at the foot of mount Gede. This is more a beautiful historical building with lovely garden.
Taman Bunga Nusantara, a beautiful flower garden. There are a lot of famous and unique plant from all over the world. It's really unique to see. Flower lover, this is the place you don't want to miss.
---
Sukabumi
From Cianjur, we are going to Sukabumi. Sukabumi is a small city in West Java with cool air. The temperature is not very different from Bandung, sometimes is Sukabumi even colder than Bandung, another city of West Java with pleasant weather. The location of this city is between Jakarta and Bandung. My brother lives here in Sukabumi. Sukabumi is also famous for their Lo Mie, a Chinese dish, very delicious. I taste it lately, the taste is heaven, yummy.
Enough about food, Sukabumi is also blessed with so many beauty around, beach, national park, hot springs and many more, are you ready to discover the hidden places?
Gua Buni Ayu ( Ayu means beautiful, gua means cave, so lettery it means beautiful cave). I'm not very sure if the place own his name, a little bit grizzly. If you are an adventure type, this might be for you.
Cisolok Hot Spring, you can swim here in a pool with natural spring warm water. The water is full of minerals. You don't have to bring swim suit here, or else you would be the only one who wear swimsuit. Everybody swim with their clothes on. Bring dry clothes and towels if you intend to go swimming here. You will need them.
Curug Luhur Cikaso, beautiful waterfall, located in Cibitung village about 110 km from Sukabumi city. Not a pretty close distance. But it's worth it to visit.
Estuary of Cipanarikan River, located in Ujung Genteng, about 120 km from Sukabumi. Another place that are far from Sukabumi. The location of this beach is remote, it makes even more beautiful, it makes the place unspoiled, beauty in their own.
Gunung halimun national park, the most beautiful national park of West java, you'll find the jungle, the waterfall, the gibbons around here. The nature environment will bring you to the dimension where only the nature of beauty exist. Overnight in the jungle would be an special experience. You won't be regret if you visit this place.
Lido, lake that surrounded by beautiful greeneries. You can hire a boat to enjoy the lake. There is also a beautiful resort here. You can stay a few days and do some relaxed fishing here. It's amazing how many lakes this region have. It's unbelievable. The one lake is lovelier than the other. Every lake has his own charm. This one has also something different than other lake, which make every lake special.
Pangumbahan beach, located about 3 km from Ujung Genteng, or 133 km from Sukabumi. This is a turtle beach where turtle lay their eggs. It's really touching to see the nature doing the work, nothing to worry about. It's a peaceful mind.
Pelabuhan ratu Beach, the famous beach around Sukabumi. Very popular resort.
---
Bandung
And we've come to Bandung, the capital city of West Java, my favorite city, of course, where I was born long time ago, he he... The time is going so hard, before we know we're already old, but we are not too old to experience a great adventure. Because Bandung has a lot to discover, not only the food of course, but there are lovely places around Bandung where you can enjoy the green sceneries and historical buildings. No beaches around Bandung, unfortunately, but waterfall and mountains would be the amazing alternative.
Bosscha Observatory, located in Lembang, on the way to Tangkuban Perahu you can go to this observatory to admire the outside of the building. To go inside you have to look to the schedule, and they're not always open.
Cihideung flower garden, in the Cihideung village, Parongrong. A lot of beautiful flowers, it would be an excellent time spending after shopping in Bandung.
Cimanggu Hot springs, an ideal place for children, there is a large hot water pool and special pool for children. Every kids love water, so they won't be boring here.
Maribaya hot springs and Curug Omas waterfall, gorgeous waterfall, also an perfect location to go hiking and my favorite place when I was on school, together with friends from school walking through thos area, an unforgettable experience, even after so many years. I don't think I will be able to do that again with my age. Sweet memories are left behind.
Dago Pakar, excellent place to see the whole Bandung, especially at nights can offer you an unforgettable picture.
Gua Pawon, located in Gunung Masigit village, Padalarang, about 25 km from Bandung. It's more an archeology place, where the bones from the sundanese ancestor are found.
Tangkuban perahu, volcano with beautiful view, located nearby Lembang.
Kawah putih, white crater lake, located in Ciwidey, with beautiful greeneries along the way.
Malabar tea plantation, excellent place to do some hiking and enjoy the beautiful view of tea plantation.
Pangalengan cow farms, located south of Bandung where you can buy fresh milk. The milk is unprocessed and natural.
Patuha Volcano, located at South of Bandung, where you can also find kawah putih, the crater lake of this mountain.
Ranca Upas, a place between kawah putih and situ patenggang, where the children can play with water.
Situ Cileunca, located nearby Pangalengan, like situ patenggang, also a beautiful lake.
Situ Patenggang, lake on the slope of Mount Patuha, with love stone and passion island, would make your day beautiful.
Walini Tea plantation, and as always tea plantation offer you a magnificent view, located nearby kawah putih.
Wayang Golek, typical Bandung and Sundanese, you can enjoy the performance of Wayang Golek in Bandung, this puppet show is very famous in West java.
---
Garut
Garut, a lovely city in West Java, provided the hidden beauty. I think that many people aren't aware about the beauty of this city. The city is very famous for their dodol. The name is Dodol garut. Lovable by many people. But until now I'm not even aware that this city has so many beautiful places to visit.
Cipanas hot springs, located about 6 km from Garut, on the slope of mount Guntur, a beautiful resort with sulphur hot springs. The water is clear and the panorama is beautiful and the cool air make your experience complete. You can swimming in this hot water, or make a hiking and paragliding on mount Guntur.
Cangkuang temple, a hindus temple, located in the middle of the lake Cangkuang. You can reach the temple by wooden raft while you're admire the beautiful lotus around the lake. This temple is one of the oldest west java monuments. The distance to this temple is about 16 km from Garut.
Curug Orok, Orok means baby, curug means waterfall, so curug orok means Baby Waterfall, there is a legend why they name this beautiful waterfall as a baby waterfall. Located in Cikandang village, about 35 km to the southwest side of garut. This waterfall has a height of 45m, on the slope of Mount Papandayan.
Curug Citiis, this waterfall comes from of Mount Guntur, located nearby Cipanas hot springs, you can even walk to this waterfall, about 2 km to the north.
Curug Cihangawar, located about 15 km from Garut, on the slope of Mount Cikuray.
Curug Neglasari, located at Neglasari, 59 km from garut, with tea plantation along the way, you'll be at your best.
Kawah Kamojang, Kamojang crater, located about 23 km from garut, one of the most beautiful crater of Mount Guntur. You will see the steam that comes out from the ground.
Mount Guntur (Thunder mountain), the mountain is not like any other tropical mountain, it's dry and there are no trees to hide under in the middle of the day when the sun become your enemy. It would be a heavy challenge to climb this mountain. This Mountain has two water source, the one goes to Cipanas hot springs, and the other one, cold water go to curug Citiis.
Haruman Mountain, an excellent place to do some paragliding and hiking, locatedin Kadungora, 30 minutes drive from Garut.
Mount papandayan, with height of 2638m would be one of the most spectacular active volcano, with the lovely edelweiss and the lake of papandayan with the difference of color would be a great adventure to visit this mountain.
Sayang heulang beach, beautiful beach on the village Mancagahar, about 89km from garut. It has an calm waves, and there are 2 types of beach, the one is full of rocks and no rocks at the other ones, where you can admire colorful fishes.
Ranca Buaya, the beach with wild ocean on the south side, about 120km from Garut.
---
Karawang
Karawang, located nearby Jakarta, the capital city of Indonesia, but often forgotten place. The tourist places aren't that famous, but still there are a lot of interesting places around this city of West Java, especially waterfalls.
Curug Bandung, Mekarbuana village, on the foot Sanggabuana mountain , about 3 km walking from the parking place.
Curug Cigentis, on the foot of Mount Sanggabuana, walk about 2 km from the parking place with lovely view.
Curug Santri, on the Loji village, karawang, the location is not far from Curug Cigentis.
Curug Cipanundaan, on the village of Kutamaneuh Tegalwaru 42 km from Kerawang city, on the foot of Mountain Sanggabuan with 3 waterfalls. it's very difficult to go to the curug, you have to cross over dozens of small waterfall.
Curug Cikarapyak, on the village of Kutamaneuh, Tegalwaru, 42 km from Karawang city, above Curug Cipanundaan.
Tanjung Pakis beach, on the village Tanjung Pakis, 70 km from Karawang city.
Tanjung baru beach, on Cilamaya regency, about 45 km from Karawang city.
Samudera Baru beach, on Pedes Regency, with soft white sand.
Situs Kuta Tandingan, on the village of Mulyasejati, Ciampel about 38 km from Karawang, they come from Kuta kingdom.
Vihara Shia Jin Ku Po, on the village of Tanjungpura, about 4 km from Karawang, build in 1770 by Chinese people Tsee, Kau and Lau.
---
Until so far the places in West Java, I think there are really a lot of beautiful, adorable and magnificent around this area of Java. You'll need a lot of weeks maybe even months to visit all of them.
If you know another interesting place in this part of Java, please share your experience, I will be glad to place them here in this site.
Until next time, maybe with more places,
Return from West java to Homepage
---
Have A Great Story About Indonesia?
Do you have a great story about Indonesia of part of it? Share it!