West Bali
the mountainous area
West Bali, this part of Bali is mountainous and dominated by the biggest National park in Bali, Bali Barat.
And they have fabulous and countless variety of visiting places.
From Mountain to beaches, from temple to hidden villages, from surfing to diving. Any kind of choice you'll find in this part of Bali.
Explore the most famous fascinating temple of Bali, Pura Tanah Lot or surfing at Mendewi beach with the wind blow on your face or walking through the jungle of West Bali National park, that would be an amazing experience.
So, what are you waiting for, discover the whole area. I bet you wouldn't be disappointed, there are enough for young and old, for relax and for culture.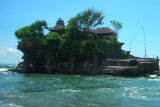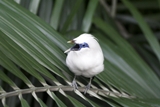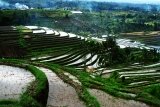 So, here are the best places on this area, explore them and make the most fabulous day of your vacation:
Pura Tanah Lot
As you already know, this is one of the famous place and the most photographed place in Bali, which is not such a wonder why this place such a popular attraction is if you see the setting of the temple, it's like that the temple flying on the sea. Click here to know more.


Pejaten
6 km north east Tanah Lot, very famous with its ceramics such as bowls, pots, washbasins, etc. The products have been exported to countries like Japan, Europe and United States. Interesting place to visit.
Yeh gangga beach
10 km south west of Tabanan, black sand beach but very attractive place to visit. The beach is not suitable for swimming, but you can walk along the beach, especially at low tide. Enjoy the volcano sight in the distance, the tranquility of the place and meet friendly people of the village.
Tabanan
A busy town, near Yehgangga beach. A lovely and excellent place to escape from the crowd of Bali, and with the most fertile rice fields of Bali give you the most fascinating view over the landscape.
Antosari and Pupuan
The places with amazing views over the rice fields. The villages are very blessed with such an incredible view with all colors in amazing plants, orchards, coffee, rice fields makes an divers and lovely contrast of the view.
Discover the hidden temples, forest with beautiful waterfalls; this is really the place to enjoy the Mother Nature.
Sangeh Monkey Forest
Located near Sangeh Village, filled with giant nutmeg trees. And in the heart of the forest you'll find a temple called Pura Bukit Sari, and the forest as you already know from the name, full of monkeys. If you visit the forest in the afternoon, you might get feeling that you are in another world, ghostly atmosphere....
Mount Batukaru
Bali's second highest mountain.
On the slope of this mountain you'll find Pura Luhur Batukaru, one of the royal temple of Bali, set on the edge of a deep forest.
Not many visits by tourist but the place is so peaceful.
Jatiluwih
A find place to walk around especially in the early morning with a beautiful rice fields and pleasant temperature.
Yeh Panas hot springs
This bath place is also located on the slopes of Mount Batukaru. About 7 km south of the village Wangayagede. It has a large swimming pool, restaurant, mineral baths, enough to spend a relax day out.
Alas Kedaton Monkey forest
A small forest about 6 hectares located in Tabanan regency, peaceful and holy atmosphere around it with the temple inside named Alas Kedaton temple.
Royal palace at Krambitan
Located southwest of Tabanan, in Krambitan village where you can experience a royal life in Balinese Palace.
Taman kupu-kupu
5km north of Tabanan you will find the butterfly park (Taman Kupu-kupu in Indonesian)in the village of Wanasari, small but lovely garden with trees, flowers and pools.
Jembrana
Home of West Bali national park, the area is varying from mountainous area to lovely beaches stretched over 70 km. The beaches are also varying from black sand beach to beautiful white sandy beaches.
Also dominated by the area of West Bali National park with 19,000 hectares.
The culture just as the beaches, various, home for Balinese Christians as well as Muslim communities, they have also Hindu temples.
The varieties of this regency are enormous. You won't be disappointed if you visit this area, and by the way this is the first place of Bali if you're travel by ferry from Java, the distance between Jembrana and the coast of Java in Ketapang is only 4 km.
Beach in Jembrana:
Medewi Beach at medewi village, Pekutatan white sandy beaches with great waves, ideal for surfing.
Perancak Beach at Perancak village, Negara
Delod Berawan Beach at Delod Berawan village, Mendoya, black sand beach


So West Bali has enough places of attraction for the tourist. From mountainous area to beaches, from Hot springs to beaches, from temple to forest, anything you would find in this area. Bali is just a small island, but there are enormous places waiting for you to discover.
Reurn from West Bali to Bali page

Back to Homepage