Small Caramel cake
with peanuts layer
(Lontong Paris)
Ever try this delicious Indonesian caramel cake? It's just so delightful desserts. The taste is heavenly but it's not good for your diet. This is certainly not a low calorie recipe, but it's so irresistible.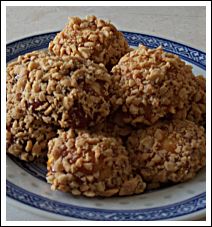 The taste is as delightful as the city of Paris

In Indonesia we call this small caramel cake as "lontong Paris". When I heard the name for the first time, I didn't even think that this would be such as delicious desserts.
I thought more as a dish, because "lontong" mean rice roll, and Paris, of course the capital city of delightful France. So it means rice roll from Paris, but that's not at all, this is the name of this caramel dessert with peanuts.
And I can assure you the taste is such as delightful as the city of Paris.





The Recipe:
Preparation time: 1/2 hour
Cooking time for the cake: 1/2 hour
Cooking time for caramel sauce: 45 minutes
Finishing touch: 1/2 hour
For 30 pieces
Ingredients:
250 gram butter
75 gram powdered sugar
2 yellow eggs
350 gram cake flour
50 gram corn flour
300 gram sugar
300 gram peanuts, chopped
Vanilla sugar
Salt
Some water
Instructions:
Preheat the oven at 175 degree Celsius.
Mix butter, cake flour, powdered sugar, and vanilla sugar, a little bit salt and yellow eggs. Make fine dough until everything well mixed.
Make small round forms such as your thumb or even bigger, just the form as you like it.
Then bake them in the preheated oven for about 30 minutes.
While the cake in the oven baked, make caramel sauce from 300 gram sugar in the pan at low fire. It takes about 30 to 45 minutes until you get the caramel sauce. So in the mean time you can do other things.
Add some water into the caramel sauce while the sauce still on low fire so that the caramel wouldn't be too thick.
Roll the cake in the caramel sauce, take them out and roll it into the chopped peanuts.
Ready to serve.
Enjoy this heavenly dessert
Return from Caramel Cake to Asian Dessrts

Homepage