Indonesian Nastar Recipe
Cookies with pineapple jam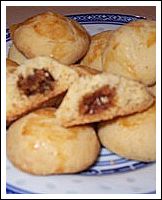 Nastar is a small cookies filled with pineapple jam, delightful snap through the day. If you have small amount guests in house, this is certainly one the best choice to serve.
It looks pretty and innocent, hiding the great amount of calorie. Yes, these cookies consist of a lot of calorie, especially if you use cream butter, which makes this snap more delicious.
But It's ok to consumed it once a while, and don't worry about that they become depraved, as long as you store it in a cool place and air tight container, you can keep them for months if you like it, but in my case most of the time this cookies is gone very fast in the stomach of my family because it's so delicious.
It's easy to make it, to make the dough and the cookies filled with jam, you'll just need an hour. And the bake time is about half hour, so you'll your snap ready in 1 ½ hour. Only the pineapple jam take a few hours before it's ready to use.
Let's get started





The Nastar Recipe
Ingredients for the dough:
300 gram butter
150 gram cream butter
150 gram soft sugar
6 egg yolk
750 gram cake flour
1/2 teaspoon salt
1 sachet vanilla sugar
1 extra egg yolk for paint the cookies
Instructions:
Mix all ingredients together, use your hands (its make easier) until you get fine dough.
If the mixture too wet, add some flour, then roll the dough and fill it with pineapple jam (about 1/2 teaspoon per cake).
Place them on the baking trays and paint all of them with egg yolk so you can get the lovely shiny parts when they are ready.
Bake in the oven for about 25 minutes or half hour. The cookies would be ready if they have golden brown color.
About 25 pieces, it depends how big you make the balls.




Ingredients for the pineapple jam:
1 pineapple peeled and rubs with some salt and then washed with clean water, sliced and blends with blender until you get a smooth mixture.
1/2 teaspoon salt
400 gram sugar
2 sachet vanilla sugar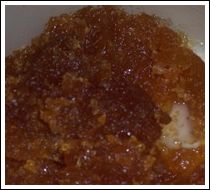 Instructions:
Mix all ingredients and put them in a sauce pan and let it simmer with low fire for a few hours. Stir it occasionally until you get dry and thick mixture.
This action is really time consuming. It takes a few hours before your jam ready to use and if you're planning to make nastar, make the filling a day before or a week before. It doesn't really matter, because the jam is storable. You can keep the jam very good in refrigerator for a few weeks or even months in the freezer.
Enjoy this delicious cookies
Return from Nastar Recipe to more dessert recipe

Homepage