Martabak Asin
Martabak Telor or Savory Martabak
Delicious as dessert also as a side dish for evening meal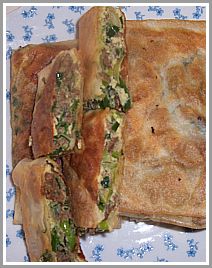 Martabak Asin is very delicious as a snack and as a company for white rice as a side dish. This snack is loved by many people especially in Bandung.
If you're looking for this snack in Bandung, try Martabak San Fransisco on Burangrang street. They have the best from all.
This snack is much known in this city and people from Jakarta come in the weekend to taste their buds, and this snack is also one of their favorite.
Use the paste of gulai to make martabak asin.
The ingredients to make the paste :
5 Red chilies
10 shallots
5 cloves garlic
5 candlenuts
1 tsp turmeric powder
1 tbs coriander powder
1/2 tsp anise
1/4 tsp fennel seeds
Salt
Make a smooth paste of this above ingredients. You can use food processor if you like it. It's fast and easy. Or you can use mortar and pestle in traditional way. Set the paste aside.
The ingredients for the martabak :
1 kg leeks (you can also use spring onions, but leeks is much cheaper and less work than spring onions), chopped
12 medium eggs
1 kg grounded meat (use low fat meat, don't use grounded pork, it's too fat)
1 pack lumpia or spring roll sheets
Vegetable oil
Instructions :
Set a wok on the medium fire without oil, add the grounded meat. Stir it occasionally until the sauce from the meat almost gone
Add the paste that you're already made. Mix it with the meat until well. Remove from the fire.
Add into the big bowl: the chopped leeks, the eggs and the grounded meat. Mix it together until well. Add some salt if needed.
Spread out the lumpia or spring roll sheets and put some of the mix in the middle of it, Fold one side and follow the left and the right side. And at the edge of the sheets make it tight with some eggs mix. It has to be flat, not as a lumpia.
Baked in the flat pan with a little bit oil, on low fire. Be careful, the fire not too high, the martabak would be baked too soon but the inside it's not really done.
Ready to serve
For 40 Pieces
Tips :
To prevent that the mix too watery after time, make the mix in two parts. The first part uses the half of the leeks, the eggs and the grounded meat. After the first part completely ready then make the second parts.
And after you put the mix into the lumpia sheets, don't wait too long to baked it. After short time the sheets would wet from the eggs and it would be difficult to take it and you get the chance that the sheets would be broken and all of the mix would come out.



Return from Martabak Asin to Indonesian Recipe

Back to homepage