South Bali
The most famous Bali beach resort


Do you have South Bali as a favorite part of Bali and the place of Bali family holidays?
I think you're probably right if you like the beaches. Because this part of Bali is the place of Bali holiday resort where you can find the most lovable Bali beaches, but also very crowded.
This part of the island, the most favorite part of the island for the tourist, while for the Balinese, mountain parts are their favorite.
In some way this places attracts more visitors than any other part of Bali. Maybe because of the location of maybe because of the lovely beaches. It's actually nearby the airport of Bali, Ngurah Rai.
Regardless the crowd, people prefer to stay here than any other part of Bali. They usually make day trips to the other side of Bali with south Bali as a basic place and they have endless possibility of resorts.
But one thing for sure, there are a lot of things to do in Bali.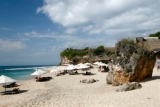 Here are the most attractive places of South Bali:
Denpasar, the capital city of Bali. Busy town with traffic jam and hassle. Well worth of visiting with the Pura Jagatnatha temple, the museum , art centre and enough places to do some shopping.
Kuta, the most famous one and most crowded of all beaches of Bali. But regardless the noise and the crowd, you can still enjoy the beauty of the sunset here. And you don't have to leave Kuta to arrange anything, because this place has everything you need. From hotels to restaurants. From Banks to moneychangers. Post office, motorcycle, car rental, anything you need you'll find here.
Sanur, alternative place for Kuta, but less crowded and confusion. It's more easy going beach. But if you want to do some surfing, it's not really interesting to stay here, you have to go to Kuta beach or Dreamland. They have great surfing place.
Serangan Island, the turtle island, located south of Sanur, and very close the shore of South Bali. At low tide you can walk across to the island. This is the place for important temple, Pura Sakenan where major temple festivals are held here twice a year.
Jimbaran Bay, The beach with lovely sunset and incredible numerous seafood restaurants along the coast.
Tanjung Benoa Bali's main port with wide and shallow bay. Lovely beach to do some water sports.
Nusa Dua, The most luxury resort of Bali. There is no budget accommodation here. But the beach is clean and no crowded.
Dreamland beach, truly a beach of a dream, great surfing place and lovely beach to enjoy.
Ulu watu, in this place you'll find a temple, set on the most grandious site. From the cliff you can see the beautiful clear blue sea.

So you know why this part the Bali beach resort is. They have certainly beautiful places. But it doesn't mean that the other part of Bali less interesting is, on the contrary, there are more to explore.









Return from South Bali to the magic of Bali

Homepage