Indonesian Sweet Corn Recipe
(Perkedel Jagung)
Corn Snacks as a appetizer
during lunch or dinner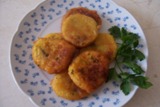 The Perfect snacks to make your day much beter!

We use sweet corn recipe to make corn snacks as an appetizer or as a side dish for lunch or dinner.
As an appetizer this recipe is really delicious. Cold or warm, it doesn't matter. So, it is very suitable if you want to go some place where you can't warm up your dish, this is just the perfect and simple solution. Even with cold rice this is very welcome to your stomach.
And this recipe would be an excellent and colorful dish to complete your festive yellow rice, it makes them very inviting for your guest.




The Recipe
Preparation time: 1/2 hour
Cooking Time: 1/2 hour
For 20 pieces
Ingredients :
• 1 cans Sweet corn
• 5 tablespoon wheat flour or corn flour
• Shrimp if you like it.
• 2 tablespoon fine chopped celery
• 2 tablespoon fine chopped spring onion
• 1 egg
• 1 little onion
• 3 cloves garlic
• Salt
• Pepper
• Sugar
• 1 teaspoon bouillon powder
Instructions :
1. Blend the garlic and onion, until you get the smooth paste. Set aside.
2. Make the sweet corn also as a paste with food processor.
3. Take a deep bowl, put the paste of garlic and onion, and add the sweet corn that you already blend it into smooth paste. Add chopped celery, spring onions, egg, salt, pepper, sugar and bouillon powder, and mix it until well.
4. And the last, add the wheat flour or corn flour, mix it.
5. Take some of the mix with the 2 table spoons, and bake it one by one in the heat oil as a round shape.
Return from Sweet Corn Recipe to Dessert and Appetizer

Indonesian Recipe

Return to homepage