Indonesian
Steamed meatloaf recipe
Excellent combination with stir fry vegetables


It's another great ground beef recipe from Indonesian.
This meatloaf recipe is an excellent variation for your evening meal, just combine with stir fry vegetables such as stir fry broccoli or green beans with chicken and basil and with some warm rice and you get healthy and delicious meal.
And that's not all, to make all these delicious dishes you don't need so much money, it's pretty cheap, healthy and complete meal for your family.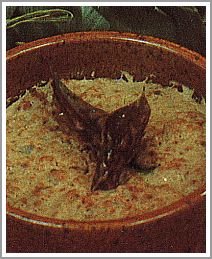 You can make this recipe the day before you consume it, then at the next day you can warming this meatloaf up in the oven or microwave, or you can baked it the best day, so you get crispy meatloaf, that's really delightful.
To bake this meatloaf, cut the steamed mixture into pieces and roll them into the beaten eggs and bake them in the heat oil. But you have to be alert that by doing this; you add more calories to the dish.





The Meatloaf Recipe
Preparation time: 40 minutes
Cooking time: 45 minutes
Serve: 8 peoples

Ingredients:
250 gram ground beef
2 bay leaves
2 kaffir lime leaves
1 egg
250 cc coconut milk
1 onion or 4 small shallots
4 cloves garlic
3 candlenuts
1 tsp pepper
1 tsp coriander seeds (or coriander powder that you made by yourself, not the powder from the store, it has already lose some taste)
1/2 tsp cumin powder
Salt
Sugar
Instructions:
Make a spice paste of garlic, shallots, candlenuts, cumin powder and coriander powder. Set aside.
Mix the ground beef with the paste, add kaffir lime leaves, bay leaves, some sugar and salt to the taste. Mix it well.
Beat the eggs and mix it with coconut milk and pour into the meat mixture. And blend the mixture until everything well mixed.
Make your heat proof dish ready; smear the bottom with some butter. Pour the mixture and steam it for about 45 minutes or until done.
Ready to serve with some rice or potatoes
Enjoy it
Return from Meatloaf Recipe to Meat Recipe

Back to Indonesian Recipe

Homepage