Stir fry broccoli recipe
Healthy Indonesian vegetable stir fry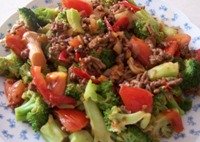 Stir fry broccoli recipe, healthy option for a dinner. It is easy and pretty cheap to make. And if you have a little time to make dinner maybe this is the perfect solution for you.
It is fast and healthy. Excellent combination isn't it?
This broccoli recipe is one the easiest Indonesian stir fry recipes. In fact all stir fry is easy to do and fast.
I make a lot of vegetable stir fry because I work too. I need a healthy and fast recipe to make, so this kind of recipes came out a lot of time.
I often use Chinese vegetables to make stir fry recipes such as kangkung or Chinese broccoli (Kai Choy). They are delicious and fast to make.
You can certainly substitute the beef with ground chicken, the instructions remain the same.






Stir Fry Broccoli Recipe
Preparation time: 20 minutes
Cooking time: 20 minutes
Serve: 5 people

Ingredients:
200 gram Broccoli, cut into flowerets and stems peeled and cut into pieces
100 gram ground beef
2 tomatoes cut into small pieces
2 red chilies, sliced thinly
2 green chilies, sliced thinly
2 pieces of fresh galangal (1 inch)
2 bay leaves
2 shallots, minced
4 cloves garlic, minced
Sesame oil
Light soya sauce (Kikkoman)
Salt
Instructions:
Boil some water in the pan, add the cleaned broccoli. Cook the broccoli for 1 minute, make sure that the broccoli stil crispy to the bite, remove and drain.
Heat about 2or 3 tablespoon sesame oil, add minced shallots and garlic. Stir fry until fragrant.
Add green chilies, red chilies, galangal and bay leaves, stir fry for about 2 minutes.
Add ground beef until. Stir fry for a while until the beef is done.
Add the broccoli, tomatoes, light soya sauce and salt. Stir fry for a few minutes.
Correct the seasoning if needed.
Remove and serve.
Enjoy this fast but delicious meal
Return from Stir Fry Broccoli to Vegetable Recipe

Indonesian Recipe

Homepage