Nasi Kebuli
Savory rice with chicken


Nasi Kebuli is a great rice recipe for the whole family. It tastes good with chicken and pineapples. It's certainly a tasteful Indonesian recipe.
You can make great recipes with rice and this is one of them. It is a savory rice and pretty easy to make. It's very suitable for dinner after a hard working day. You can make it the rice mix the day before to faster the serving time. Make the rice ready until half cooked (before you steam it) and let it overnight in the refrigerator.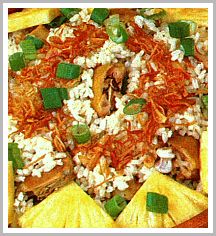 Savory and tasteful Nasi Kebuli

At the next day you just need to put the rice in steam pan and let it steam for 45 minutes while you can do other things that you need to do after a working day or playing with your children while the dinner ready in just short of time and almost by herself. And the taste would even better than the day before because the entire flavor has been completely absorbed.
The advantage of the most Indonesian Recipes is that they are mostly tasted much well the next day than the first day you cook.
I do that all the time, half cooking the day before when the children already to bed because I work too, and most of the time I have a little time to cook, so this method would faster the finishing time.






Nasi Kebuli Recipe
Preparation Time: 1/2 hour
Cooking time: 3/4 hour
Steam time: 50 minutes
Serve: 8 people

Ingredients:
1 kg rice, washed and drained
10 tablespoon vegetable oil
3 cardamom seeds
5 cloves
5 cm cinnamon stick
1 lemon grass stalk cut in 3 pieces, bruised
1 chicken breast filet, rub with lemon juice and wash it and cut into pieces
Some water
Fried onions
Chopped Spring onions
1/2 pineapple, peeled and sliced
Make a Spice paste of:
1 tsp coriander
1/2 tsp cumin powder
2 cm of fresh ginger
5 shallots
5 cloves of garlic
1/2 tsp nutmeg powders
Pepper to the taste
Salt to taste
Instructions:
Steam the rice until it is half cooked.
Heat the oil in a wok and fry the spice paste mixture together with the cardamom seeds, cinnamon, cloves and lemon grass until fragrant.
Add the pieces of chicken and stir fry until everything is coated with the spices and has changed color.
Add just enough water to cover the chicken
Simmer until tender at middle fire
Add the broth to the rice in a saucepan with a tight fitting lid
The broth should be 1 cm above the surface of the rice. If you have less than this, add hot water to make up the difference
Boil the rice until the broth has been absorbed And if you want, you can put the mix rice in the refrigerator (when the rice is cold) to steam and finish it the next day
Steam the rice (at the next day) until is done (about 50 minutes)
Serve on a large dish and garnish with the fried onions, spring onions and sliced pineapple
Enjoy this tasteful rice recipe
Return from Nasi Kebuli to Rice Recipe

Back to Indonesian Recipe

Homepage