Fried Rice Petai
Exceptional Indonesian Rice Recipe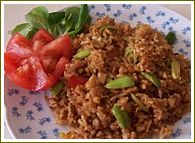 Fried rice petai is very exceptional Indonesian Rice Recipe.
It's not pretty lovable by many people outside Asia because of the smell of petai. It has a nickname as stink bean and has strong smell and it lingers in your mouth and body.
But Petai beans are also tasteful with just scramble eggs and sweet soya sauce. Very simple but delicious taste. Also it can be eaten raw with just sweet soya sauce and sambal. Just simply tasty.
And as an adding to Fried Rice, petai beans give certainly an apart taste.
Just try this recipe, maybe you would like it.





The Recipe
Preparation Time: 15 minutes
Cooking Time: 15 minutes
Serve: 6 people

Ingredients:
1 kilogram Cold cooked rice, prefer from the day before
3 eggs, baked in a pan and stir it until you get scramble eggs
100 gr petai bean, you can buy this fresh at the Chinese supermarket, it's easy to find, or if you can't find it, they have also frozen beans, that's also ok for this dish.
5 tomatoes, sliced
100 gr ham ( if you like it, but it's not necessary), sliced
Sweet soya sauce to the taste
2 Red Chilies, thin sliced
3 Shallots or 1 onion, chopped
3 cloves garlic, chopped
1 tsp terasi
Salt
Instructions:
Heat the oil, fry chopped garlic and onion until fragrant. Add red chilies
Add ham, petai beans and scramble eggs, stir it until well.
Add the rice, sweet soya sauce, terasi, and salt. Stirring it until everything well blended and heated
Garnished with fried onions and sliced tomatoes.
Return from Fried Rice Petai to Indonesian Recipe

Back to Rice Recipe

Homepage