Mount Bromo
with his magnificent sunrise
Mount Bromo, one of the biggest attractions where thousands of visitors keep coming back every year just to enjoying the natural beauty of the mountains.
This is one of the five volcanoes located in Tengger Mountains on its sand sea.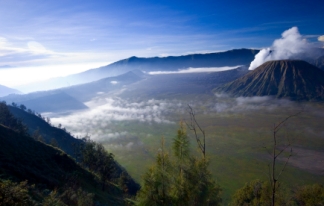 Superb view of the caldera
The fact that you can get to the edge of crater, made this mountain very famous all over the world.
This is also a very active of Indonesia volcanoes, so be careful if you're planning to visit this place.
I don't want to scare you but that's the fact that in 2004 two tourists were killed and five injured when the mountain spit out molten rocks. Just keep your distance if the volcano active is.
But above of this fact, Bromo is very special and if you are a nature lover, you won't be missing this great opportunity to see one the most magnificent sunrise all over the world.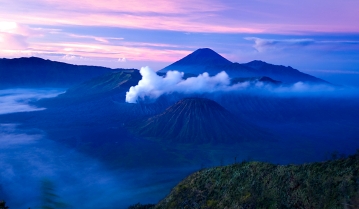 This picture is taken at 4 am in the morning. You can see here why this mountain is a famous one. The sunrise is truly breathtaking.
Imagine this picture in your own experience. What kind of feeling do you have.....?
It's like that you're a part of it. It's so magical with serene atmosphere and peaceful at very early in the morning with just a few people around you.
This mountain is very unique because it is a volcano inside a volcano. The base of Bromo rises from ancient caldera of Mount Tengger.
This volcano is also a ritual ceremony place for Tenggerese Hinduism with old traditional, which still exist until now.
Every year in December or January at full moon held this Tenggerese people their traditional and religious ceremony, called Upacara Kasodo or Yadnya Kasada ceremony at the edge of the crater on the top of Mount Bromo.
The intention of this ceremony is to invoke the blessing of the deities to ensure the abundant harvest, to be spared from calamity, and to be cured of various diseases. Throwing fruit and other farming products into Mount Bromo crater is part of the ceremony.
The main route to this mountain is through Cemoro Lawang at the northeast edge, but there are also trails available from Tosari (northwest) and Rigadas (west).
The village of Rigadisari, on the road from Probolinggo about 5.5 km before Cemoro Lawang, marks the entrance.
There are plenty of accommodations around the mountain. At Cemoro Lawang you can find simple facilities. But if you are looking for some good hotels, you have to go to Probolinggo or Sukapura.

Return from Mount Bromo to Volcano page

Return to homepage