Indonesian Vegetable Salad
with grated coconut
(Urap)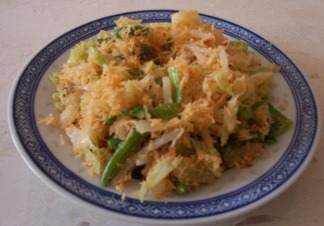 Indonesian Vegetable salad or Urap in Indonesian is an authentic Indonesia food. This is really an old dish of Indonesian recipe. But this recipe is still a favorite for many people. Maybe it's because of the fresh taste of the vegetable in combination with seasoned grated coconut.
For Indonesian people this is also the most common dish. It's very cheap to make and you don't need special skill to make it. It is very easy to make.
If you are vegetarian, this is an excellent choice for your dinner. I'm sure you will like this oriental recipe. It is healthy, delicious and one of the best low calorie recipe, fresh and light.
Ingredients:
250 gram mung bean sprouts, tailed and rinsed clean. Pour hot boiled water over it if you want it still crispy.
150 gram green beans, sliced in 1/2 cm lengths, cooked lightly
1 Chayote, sliced in 1/2 cm lengths, cooked lightly
150 gram white cabbage, sliced
250 gram grated coconut or you can obtain the dried grated coconut that you can obtain at the chinese supermarket, but you have to add some water to make it moist
3 Red Chilies
3 Kaffir lime leaf
2 clove garlic
2 inch of aromatic ginger (kencur)
1 teaspoon terasi
Salt
a pinch of sugar
Instructions:
Make a smooth paste of red chilies, garlic, kencur, terasi, sugar and salt. Add kaffir lime leaf. Set aside
Prepare the vegetable according the instructions. Set aside.
Mix the grated coconut well with the smooth paste. And steam it for about 20 minutes.
Mix the coconut mixture with the vegetables and serve.
For 6 persons



Do you need some more vegetarian recipe for dinner tonight? Maybe you could try this authentic Chinese Vegetarian recipe. They are tasteful and the instructions are easy to follow. Get the free cooking tips by subscribe to the website and discover the easy to follow cooking technique to make a lot delicious low calorie vegetarian recipe.
Return from Indonesian Vegetable Salad to Indonesian Recipe

Herbs and Spices

Homepage