Stuffed Cabbage Rolls
(Daging Bungkus Kol)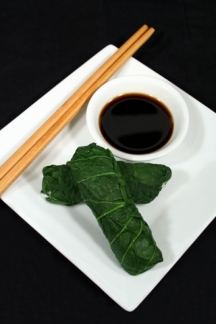 Stuffed Cabbage Rolls or better known as Daging Bungkus Kol in Indonesian is a delicious ground beef recipe with cabbage as a wrapper.
It is a low calorie recipe and healthy because we steamed the food and we use cabbage as vegetable and ground beef which are very low in fat. So that makes this beef recipe very suitable for the whole family, even for young children.
This Indonesian food can be used as a side dish with warm rice or just as a lunch or snacks. They are both delicious.
Ingrediënt:
1/4 kilogram slightly ground beef
2 eggs
2 finely chopped flat leaved parsley stalks
10 cabbage leaves
3 candlenuts
1/2 tablespoon ground pepper
4 shallots
2 cloves garlic
1/4 teaspoon nutmeg powder
salt to taste
Instructions :
Put candlenuts, ground pepper, shallots, garlic and nutmeg in the food processor, mix it until you get the smooth paste.
Mix the ground beef with the beaten eggs and the paste.
Add the flat-leaved parsley and salt, blend it until smooth
Steam the cabbage leaves over boiling water until they are limp
Put 2 or 3 tablespoon of the mixture in the center of each leaf and fold them into rolls
Steam the rolls about 30-45 minutes.
Served with brown sauce.
How to make the Brown sauce
Ingredients :
5 shallots, chopped
2 cloves garlic, chopped
3 tablespoon butter
2 seeded tomatoes, chopped
250 cc water
2 tablespoon sweet soy sauce
1 tablespoon tomato ketchup
1/2 teaspoon pepper
1/4 teaspoon nutmeg powder
Salt
Instructions :
Fry the shallots and garlic in the butter until fragrant
Add the chopped tomatoes and continue frying until tomatoes are softened
Add the water, sweet soy sauce, tomato ketchup, salt, pepper, nutmeg. Let them cooked until boiling
Ready to pour over the cabbage rolls
For 10 persons
Looking for healthier recipe for your children? Try this Chinese vegetarian cooking. They offer you much more delicious, healthy and low fat recipe and easy to make with step by step guide so you can easily obtain the proper cooking techniques which are result in great meals.
Return from Stuffed Cabbage Rolls to Indonesian Recipe

Herbs and Spices

Homepage