Omelets with Tofu
Excellent Tofu Recipe with eggs
and peanut sauce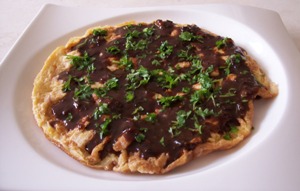 Have you ever thought to make omelets with tofu? Maybe you can try this authentic tofu recipe for your family, maybe they would like it.
This is not only just the dish, the sauce is also very delicious, the peanut sauce. It's very yummy. It's Spicy and also sweet at the same time.
It is very easy to make and pretty fast. You just need a half hour to make everything done. So, a quick oriental recipe. It is very ideal meal after your working day.
Ingredients:
1 big tofu, cubed in small size, about 1x1 cm
4 eggs
100 gram fried peanuts
3 cloves garlic, fried
5 Birdseye chilies, fried
2 Red chilies, fried
2 tablespoon sweet soya sauce
Some water
1/2 teaspoon Salt
1 teaspoon chopped parsley
Instructions:
Fry the tofu until they are half done. Set aside.
Beat the eggs with salt. Add the fried tofu. Make the omelet and set aside.
Put the omelet on a plate and pour the sauce over. Scatter the chopped parsley on the top.
To make the peanut sauce:
Grind the peanuts with fried garlic, Birdseye chilies, and red chilies until you get a fine paste.
Add sweet soya sauce and water. Mix them together until they are completely blended.
For 5 people






Return from Omelets with Tofu to Indonesian Recipe

Homepage