Indonesian Grilled Fish Recipe
(Pepes Ikan)
Fish and spice wrapped
with banana leaves and grilled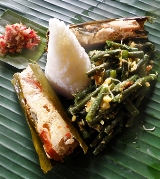 Why don't you try Indonesian Grilled fish recipe to make something different with fish in the kitchen for tonight? It's tasteful, spicy and healthy.
This fish recipe doesn't need special skill to make it. You can do it too. What you need is the right ingredients and the amount of them. If you use the right amount and ingredients, I'm sure the results would be overwhelming.
It's very delicious with warm white rice and side dish of vegetables such as long beans hot spicy chili sauce, nothing more. Great fish recipe in simplicity.




It's very simple authentic grilled fish, which own by simple people from the villages of Indonesia. If you visit many villages in this lovely and beautiful country you will find many of this kind of food. Also in Bali on the beach you will find many kind of delicious fish recipe, fresh from the sea.
Trust me the simpler the recipe the better.
And don't forget that fish recipe means high protein recipe. Fish contain a lot of nutritious substance. So beside that this recipe yummy, this is also healthy food. It is really Tasty Indonesian cuisine
Great, ready to try?




The Recipe:
Preparation Time: 1/2 hour Cooking Time: 1 hour Serve 2 people
If you're pretty unfamiliar with Indonesian spice, just look at my page Herbs and Spices.
Ingredients:
1 Fish, or fish filet wash it and rub with some lemon juice
1 onion or 3 shallots
5 cloves garlic
5 candlenuts
1 fresh aromatic ginger, peeled
1 inch fresh ginger, peeled
1 teaspoon terasi (belacan)
1 teaspoon tamarind
1 lemon grass stalk, cut in for 5 pieces, bruised
1 Red chili
Sugar to your taste
Salt
1 banana leaf or aluminum foil




Instructions:
Make a spice paste of garlic, onion or shallots, candlenuts, aromatic ginger, ginger, terasi, red chili, sugar and salt.
Preheat the oven to 175 degree celcius.
Make the banana leaf or aluminum foil ready, rub with some vegetable oil
Put the fish or fish filet in the middle and spread the spice paste over the fish.
Put the pieces of lemon grass on the fish. Also spread the tamarind over the fish.
Close the banana leaf or aluminum foil with some tooth pick
Put them into the oven and grilled for about 1 hour.
Served hot with warm white rice, raw vegetables and hot chili sauce.
Enjoy this tasty local cuisine.
Return from Grilled Fish to Indonesian recipe

Homepage