Indonesian Fish curry recipe
One of the best authentic Indonesian Recipe


Indonesia has a lot of fish recipe and this fish curry is one of them. And as always Indonesian recipe needs a lot of ingredients.
In the beginning you might be overwhelming that we use so much spice and herbs to make our dish ready, but in the end you will get use to it.
And to make this fish recipe, it's not really difficult. The instruction is not really difficult to follow. You just need how much you use the ingredients.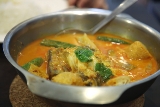 The Recipe
Preparation time: 1 hour Cooking Time: 1 hour Serve: 6 people
Ingredients:
1 kilogram fish filet or tilapia
3 tablespoon lemon juice
400 cc coconut milk
3 shallots or 1 onion
5 cloves garlic
5 Red chilies
1 teaspoon turmeric powder
1/2 teaspoon terasi
2 pieces of fresh ginger (each of 1 inch)
2 pieces of fresh galangal (each of 1 inch)
2 bay leaves
1 lemon grass stalk, diced in 2 pieces, bruised
1 tablespoon tamarind water
Vegetable oil
Salt




Instructions:
Clean the fish, rub with some lemon juice and salt. Let it stand for about 15 minutes. Then bake the fish until done.
Make a spice paste of shallots, garlic, red chilies, terasi and turmeric powder. Set aside.
Heat some vegetable oil in the pan, add the spice paste, fry and stir it until fragrant.
Add the bay leaves, bruised lemon grass stalk, ginger, and galangal. Stir it until fragrant.
Add the coconut milk, tamarind water, and salt to your taste. Let it boil on middle fire until the oil comes out.
Add the baked fish and let it cook for about 20 minutes.
Ready to serve.
Enjoy this delicious fish recipe.







Return from Fish Curry to Indonesian Recipe

Homepage