Spicy fermented
Chinese cabbage Recipe
One of the unique Indonesian Recipe
This is one of the delicious but unique oriental recipes from Indonesia.
This chinese cabbage recipe comes originally from East Java. Fermented cabbage is easily to obtain at the Chinese supermarket.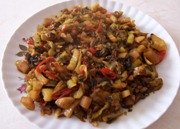 Sour but spicy sawi asin, delicious for the lunch

If you don't where you have to look, just ask the people who working at the store and asking for "Sawi Asin". I'm sure they know what you mean.
We use turmeric and belacan (terasi), which gives a certain unique aroma and it taste sour and spicy. You have to like sour and spicy food to love this recipe.



Spicy Chinese Cabbage Recipe Preparation time: 20 minutes Cooking time: 1/2 hour Serve 4-5 people
Ingredients:
2 packs fermented Chinese cabbage, sliced
5 cloves garlic, chopped
1 onion or 3 shallots, chopped
1 teaspoon terasi (belacan)
1/2 teaspoon turmeric powder
1 piece of fresh galangal (1 inch)
2 Red chilies, sliced diagonal
2 tablespoon sweet soya sauce
1 teaspoon bouillon powder
2 tablespoon water
Vegetable oil
Instructions:
Heat some vegetable oil in a pan and add garlic and onion, fry it until fragrant.
Then add sliced red chilies and galangal, stir it until they mixed well.
Add the sliced cabbage, turmeric powder, bouillon powder, sweet soya sauce, terasi and water.
Correct the seasoning to your taste. The taste has to be between sour and spicy and a little bit salty.
This Chinese cabbage recipe is absolutely a great refreshing idea for lunch, really delicious with warm white rice.
If you like rujak, Indonesian raw vegetable salad with vinegar (absolutely delicious, favorite by many Indonesian people, then you will like this recipe.
Enjoy your meal.
Custom Search
More Chinese Vegetarian Recipes

Return from Chinese Cabbage Recipe to Indonesian Recipe

Homepage