Asian Chicken Soup Recipe
Nutritious and healthy chicken recipe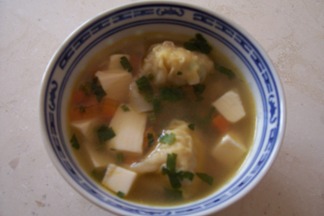 Looking for a cooking idea for tonight for your little children? Try this Asian Chicken Soup Recipe; I think they would like it.
It has a soft taste that makes it easy for your children to eat it. And it's not difficult to make and you're only need 30 minutes to prepare it. Is that not the most essential aspect that you need to cook after your working day? You need something healthy and nutritious but it has to be quick and easy. Trust me; this is the easiest oriental recipe that you can make.
Choose free range chicken to make the chicken broth. This kind of chicken is more delicious and tasteful, but above of all this advantage, free range chickens are healthier and low fat. You don't have to use all the chicken, just use a few parts, like the chicken wings, you don't need the chicken meat to make the soup, and only the bone would be enough.
So don't wait, just start it. In the matter of short time you're table will be ready with this delicious chicken soup recipe.

Ingredients:
2 big pieces of chicken bones or chicken wings
1 silken tofu (optional, this tofu is easy to obtain at the Chinese supermarket), sliced in cubed, be careful to sliced this tofu, it's easy to break
1 carrot, cubed small
10 chicken wan tan (ready to use, also easy to obtain at the Chinese supermarket, most of the time at the frozen section)
2 cloves garlic, chopped
1 tablespoon chopped celery
1 tablespoon chopped spring onions
1/2 tablespoon vinegar
1 tablespoon oyster sauce (use Panda brand mark, it has the best taste)
2 tablespoon sesame oil
1 tablespoon Chinese wine (optional)
1/2 tablespoon salty soya sauce (Use soya sauce with Kikkoman brand name, it has no fishy taste)
Ground pepper
Salt
Instructions:
Make the chicken broth with chicken bone or chicken wings. Set aside
Heat 2 tablespoon sesame oil in the cook pan, and add the chopped garlic, stir it until fragrant
Add the chicken broth, cubed carrots, the frozen chicken wan tan, and the silken tofu, let it cook until boiled
Add the oyster sauce, Chinese wine, vinegar, salty soya sauce, ground pepper, and salt to your taste
Add the chopped spring onions and celery. Remove.
Served hot
Enough for 4 people.



Looking for healthier recipe, or even cook with raw ingredients? Maybe you could try to look these fabulous recipes about raw food. And you will get to know better that raw food is not just vegetable and fruit salad but much more than that.
Return from Chicken Soup Recipe to Indonesian Recipe

Homepage