Indonesian Chicken Sate
(Sate Ayam)
Chicken sate is the most favorite Indonesian Recipe, even outside Asia; this is the most famous recipe of all Asian Recipe. This Recipe is one of the greatest Indonesian Recipe.
Even outside Asia, this is very famous recipe. If you visit one of the Indonesian restaurants in Europe or US, I'm sure you are looking for this delicious Indonesian food.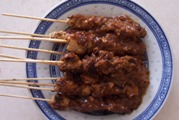 Delicious chicken sate


Do you want to make this Sate by yourself? If you'll find too difficult, don't be. In fact you don't need so many ingredients to make this. In contrary with Sate Manis which it didn't need so many herbs and spices, with the right and simple ingredients I'm sure you will come very far.






The Recipe
Preparation time: 2 hours Cooking Time: 2 hours
Ingredients for the sate :
3 kilogram chicken (don't use chicken fillet, your sate would be dry and hard because fillet contain less fat. Use chicken breast, just deboned the chicken and cube the meat 1x1x1 inch) rub the chicken with lemon juice and washed.
10 cloves garlic, minced
Olive oil or vegetable oil
3 teaspoon salt
Lemon juice
Instructions :
Take a deep bowl; add the cube chicken, minced garlic, olive oil, lemon juice and salt. Mix them together with your hands. This is the best way to get the mixture well blended. Let them overnight.
The next day, skewer the meat, and grill them at the charcoal barbecue to get the best taste. Dipping it from time to time with the mixture of sweet soya sauce, lemon juice and oil. Grill them again until they completely done. Set aside.
Ingredients for the peanut sauce :
4 pieces of ginger (each of 1 inch)
2 aromatic ginger (kencur)
6 cloves garlic
6 Red Chilies
5 tablespoon sweet soya sauce
3 can peanut butter or 1 kilogram ground peanuts
Salt to taste
Vegetable oil
Water
Instructions :
Make a smooth paste of red chilies, garlic, ginger and aromatic ginger. Add the in to heat oil and stir it until fragrant. Set on very low fire.
Add the peanut butter, salt, sweet soya sauce and water. Stir it until the oil comes out. I have to warn you that it takes a little bit long time to get the peanut sauce good and well, because if you set at medium fire or even higher, it will get burn on the bottom parts, and you will get stressed because you have to stir it all the time but still is not good enough and at the end that's not really tasty. So be patient, set on very low fire and stir it occasionally until it cooks and doing something else in between instead waiting them boiled.
The sauce has to be between thick and thin, just add more water if it is too thick or add more peanut butter if it is too thin. Don't be afraid to add some more things if needed. Through experiment you will become and expert.
And if you like it you can add sweet soya sauce with Birdseye chilies to make chicken sate more delicious, here is how to make it:
Ingredients:
15 Birdseye chilies, chopped
1 shallot, chopped
1/2 teaspoon salt
5 table spoon sweet soya sauce
Mix all of the ingredients in a small bowl, and serve together with sate and peanut sauce.
Return from Chicken Sate to Chicken Recipe

Back to Indonesian Recipe

Homepage