Authentic Steamed Chicken
with coconut milk
(Bebotok Ayam)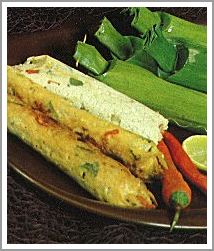 This Indonesian authentic steamed chicken recipe is very healthy dishes with so much benefits for your health.
First using coconut milk is really a wise choice. It gives so much advantage for your body and it helps you lose your weight regardless the high saturation fat in coconut. See my other page about the benefits of coconut milk.
So, you can enjoy this food without worrying that you gain some weight.
Second, we steamed this chicken which means that we are not lose some vitamins that we need for our body.
Third, this is a suitable dish to feed a crowd or for a party. You can make it in a lot of quantity at once. Make it a few weeks before and put them in the freezer.
So, we have a lot of benefits of this dish.
Shall we begin?
---
The Authentic Steamed Chicken Recipe
---
Preparation Time: 1/2 hour
Cooking Time: 1/2 hour
Ingredients:
700 gr chicken breast or chicken filet
2 tbs sweet soy sauce
1 tsp lime juice
2 eggs, beaten
250 cc coconut milk
Banana leaves or it can be substitute by aluminum foil
7 shallots
4 Cloves garlic
1 tablespoon coriander powder
1/4 teaspoon cumin powder
3 pieces of galangal(each 1 inch)
3 Red chilies
1/2 teaspoon terasi
1 cup chopped spring onions
Salt
Instructions:
Rub the chicken with vinegar or lemon juice and clean water. If you don't use chicken filet, bone the chicken first. Grind the chicken by putting it through a meat grinder twice.
Make a smooth paste of shallots, garlic, coriander powder, cumin, chilies, galangal, and terasi.
Mix the paste with the chicken. Add the sweet soy sauce, lime juice, beaten eggs, salt and half of the santan (125 cc). Blend it until smooth.
Add a bit of salt to the remaining santan.
Spoon 2-3 tbs of the mixture on a piece of banana leaf or foil. Add 2 tbs salted santan to each packet and sprinkel some of the spring onions. Fold the ends of each packet and secure.
Steam for about 30 minutes
For 10 persons
Tips :
If you don't like steamed dish but you're still like to try this delicious meal, put the dish in the oven for 1 hour in the oven at 175 degree Celsius to get the crispy layer.