Ubud
Experience the real Bali
Ubud is located 35 km northeast of Bali Airport, Ngurah rai.
This place offer an nice and quite place compare to other destinations in Bali. A peaceful and lovely town surrounding by mountain and green rice paddy fields.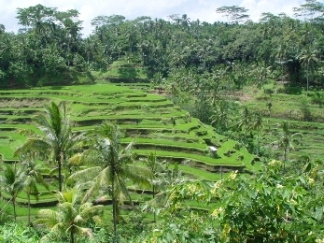 Amazing view of the rice fields
If you like peace and quiet, this is the right place for you. You won't see the night life and noisy crowd in here.
You will wake up by singing birds with the rice paddy fields if you look outside from your room, isn't it beautiful thought??
At least, I love that. I'm not a party type, and I don't like so much about night life, so this lovely village offer a very nice place, also for you if you like walking around the paddy fields, like art and culture and a nice place to spend your days to explore the culture of Bali.
This is a village with friendly and social people, a place where days easily turn into weeks and weeks into months.
This place has also countless great bookstore, and if you like reading, you won't get boring here.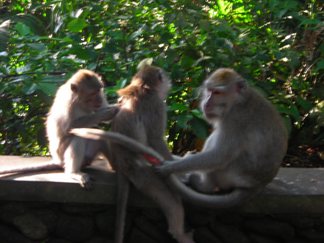 And there is another attraction around, the Monkey Forest. You can walk around the monkeys in this forest. They are friendly. Sometimes they will sitting on your shoulder while you feed them.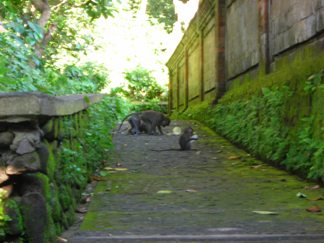 Monkey walks freely around in the forest
And the forest itself is very beautiful and offer a cool and nice place in this warm island.
And at the highest point of this forest, you'll find a 14th century temple called Pura Dalem Agung. Too bad when we get there the temple was close so we can't take the pictures from the inside. Just satisfy with the gorgeous looking of the monkey in front of the temple.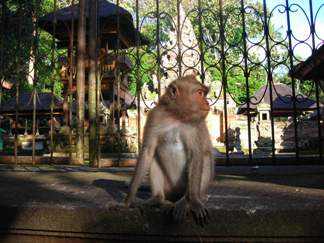 It's just gorgeous look
the monkey in front of the temple
"Pura Dalem Agung"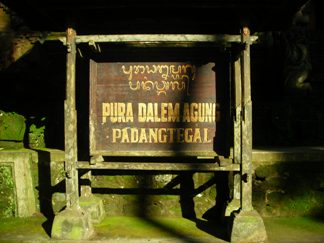 Pura Dalem Agung signboard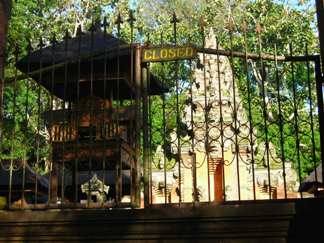 The temple was closed when we get there
it's too bad so we can't get photo's from the inside


So, Ubud is a friendly place and certainly worth it to visit. And if you're intend to stay a few days in this lovely village, why don't you take a look of Ubud Hanging Gardens, a unique Orient-Express property set high in the rice terraces of Bali. Click here to know more about this hotel
Return form Ubud to the magic of Bali


Return to homepage