Steamed Chicken
Ayam Kukus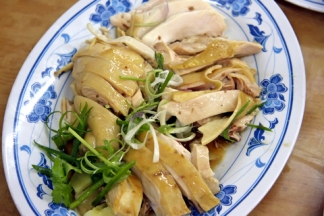 Steamed chicken or Ayam Kukus in Indonesian is a delicious chicken recipe with some tasteful ingredients to make it yummier and lovable by anybody. If you're on diet this dish might be a solution because this low calorie recipe is diet friendly so you don't have to worry about your weight.
Ingredients:
1 kg chicken breast
1 ½ tsp salt
1 tsp pepper
2 bunches salted mustard leaves
2 tbs light soy sauce
2 tbs sesame oil
6 cloves garlic, smashed
1 big pieces of ginger (about 2 inch), julienned
7 sour small star fruit, halved
2 spring onions, sliced in 1 inch lengths
100 cc water
Instructions:
Wash the chicken with vinegar or lemon, then wash with clean water
Rub salt and pepper all over the chicken and set it aside for about 15 minutes.
Stuff the chicken with the salted mustard leaves and put the chicken on a heat proof dish.
Add the rest of the ingredients and the water.
Steam over low heat for about 2 ½ - 3 hours, or until the chicken is tender.
Remove and serve
For 8 persons.






More Chicken Recipe

Return from Steamed Chicken to Indonesian Recipe

Herbs and Spices

Homepage