Indonesian Shrimp Curry Recipe
(Gulai Udang)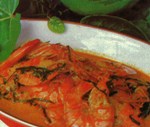 Shrimp curry ala Indonesian, fabulous food. Great shrimp recipe for a dinner with your family.
As you have already known that Indonesia is a land with so many islands, so the seafood makes an important part in daily day life of many Indonesian people.
So this recipe was born and with coconut milk in combination with all the flavor leaves that makes this Indonesian recipe certainly a welcome and lovely variation than only baked shrimp.
This authentic recipe is not really that difficult to make. It is also pretty fast to make it. With just short of time you're table would be ready with this shrimp variation.





The Recipe
Preparation time: 1/2 hour Cooking time: 1 hour Serve: 8
Ingredients:
1 kilogram big shrimps (you can also use frozen shrimps that you can obtain at the Chinese supermarket if you can't find fresh one)
4 shallots or 1 onion
6 Cloves garlic
3 Red Chilies
2 piece of galangal, bruised (1 inch each)
1 piece of ginger, bruised (1 inch)
2 Turmeric leaves
5 curly kale, shredded
3 Kaffir lime leaves
1 Lemon grass stalk, diced in 2 or 3 pieces, bruised
2 Tomatoes, sliced
600 cc coconut milk
Vegetable oil or olive oil
Salt to your taste
Instructions:
Make a spice paste of shallots (or onion), garlic, and red chilies. Set aside.
Heat some oil in the pan and fry the spice paste until fragrant.
Add Turmeric leaf, Lemon grass stalk, and galangal, ginger, and kaffir lime leaves. Stir it until fragrant.
Add Coconut milk and bring to a boil. Stirring it occasionally.
Add the shrimps and tomatoes. When the shrimps are done, add the curly kale. Stir it and cook for a few minutes. Remove.
Serve hot.
Enjoy this delicious Shrimp Recipe.
Return from Shrimp Curry to Fish Recipe

Homepage