Selecta Batu Malang
Selecta Batu Malang Entrance
Selecta Batu Malang is flower garden with really magnificent beautiful flowers and plants. The location of this garden is very strategic which make the flower glorious in their rights. The cool air temperature around makes the plants grows health.
So, what are you waiting for, let's go to this lovely garden.
Maybe ideal for picnic? Or something else…. Just like lovers, the perfect place to be on Saturday night?
When we get there, there are no crowded, lucky for us. But not for our stomach weren't so lucky, you will later know why....
The driver who brought us there, ( we are not very familiar with city batu or malang, we are from Bandung originally, so we don't know very much about the city , we need someone who brought us everywhere in this lovely city) tell us that we are lucky because we came on Friday (on school day),and not at holiday time or else the place would be very crowded, and it will be difficult to look parking place, or you might have to take a walk for a few kilometers, pheeww I'm so tired if I thought that…. Joking, I don't mind if we have to walk for a few kilometers, the weathers is nice, not too hot,, it would be a lovely walking if we have to do that, honestly..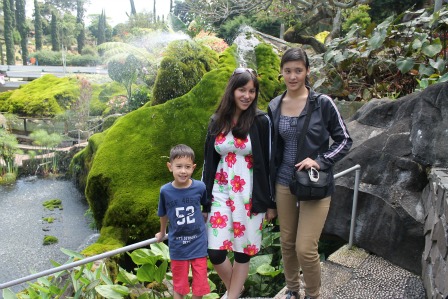 At the entrance of Selecta Batu Malang you will greet by so much beauty. Waterfall with green hills covered by lovely flowers. An ideal background to make some pictures. Of course I couldn't resist it to make so many photos. Great pictures.
Then walk over the bridge and you will arrive at the nice fish pond, with a lot…. Reaaallly a lot of big fish. Interested to feeding the fish? You could buy fish food on the kiosk nearby the pond for IDR 1000 for a small bag. Cheap isn't it? And the children…? They have a great time to feeding all that hungry fish.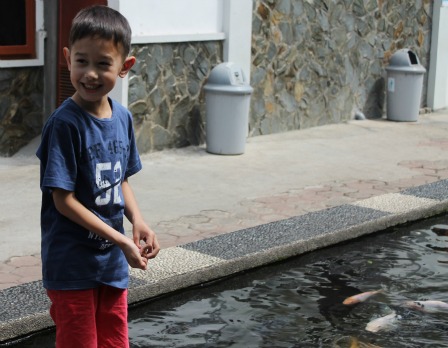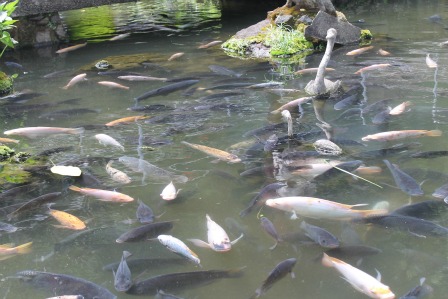 Hungry fish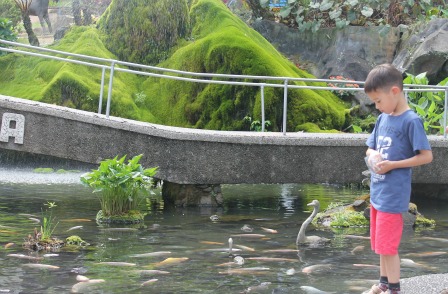 Feeding fish, concentrate it my boy
After the fish pond, you will come in to the open place with a big swimming pool. The children is crazy about swimming. We weren't prepared. We don't have any swimming stuff with us. Too bad… no swimming this time children…. Maybe next time…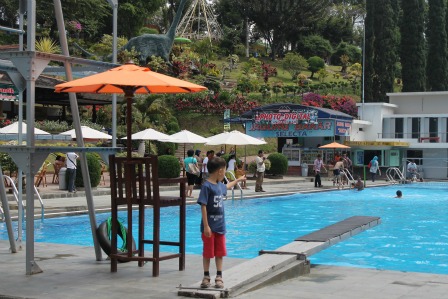 Big swimming Pool
Water Parc Selecta
But don't disappointed children, look around you, there are enough around to have a good time around this garden, even without swimming.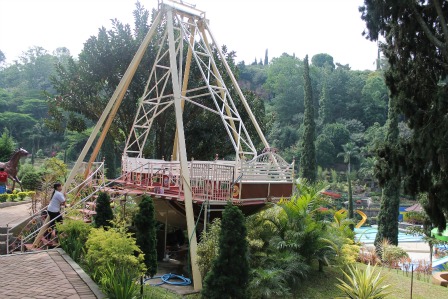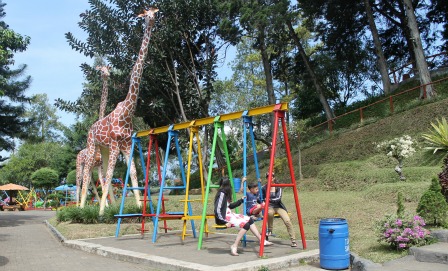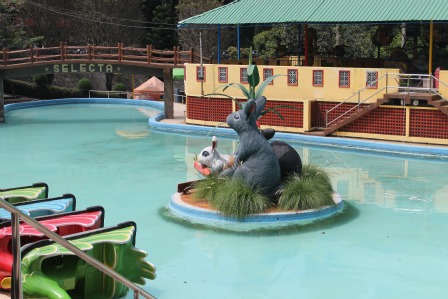 Almost all restaurants around here were closed when we were there. Too bad. Because we want to proof Bakso Selecta (meatballs in soup), the famous dish around Malang. O what is that a disaster, no crowded, also no food. So you know by now why lucky for us but not for our stomach. Nothing is open, only the kiosk for the fish, bad business…
In the end we found the restaurant that open is that time, who can served us this soup. Finally. There are no much people visit at that time so we have the restaurant just for us. Great…
In the afternoon, after lunch, we walk around, make some pictures, discovered the cave of lion, enjoy the view. It's worth it to visit this place. Nice air and view.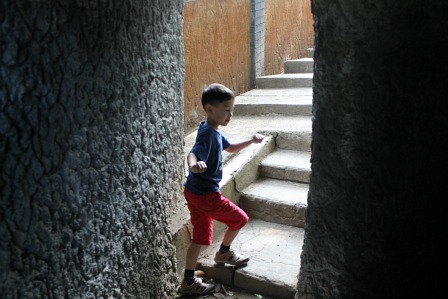 Inside the lion cave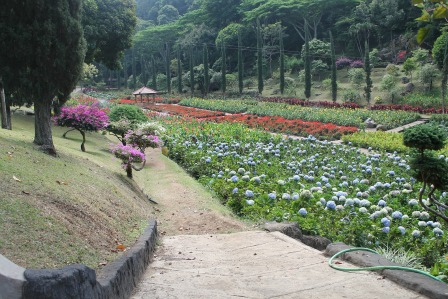 Overlooking view of the flower garden
Plants grows at their best in this cool area of Batu
Smog over the area of Selecta Batu Malang
So enough for today.
Up to the next adventure to Jatim Park, Batu Secret Zoo, one of the biggest in Asia.
Back from Selecta Batu Malang to Malang city