Pura Ulun Danu
Mysterious temple of the
Lake Bratan
Pura Ulun Danu is located in the area of Bedugul, Tabanan area in the central mountains of Bali. On the main road from South Bali to the North coast that leads to Lovina and Singaraja.
Bedugul is the fastest route if you want to go to Singaraja from Denpasar, it would be faster than through Penelokan.
And beside of that in Bedugul you can enjoy the mysterious temple that seems to rise out from the lake Bratan.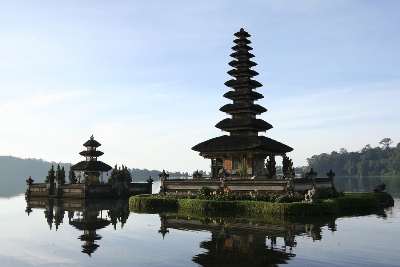 High up in the hills on 1239 meter above sea level near Candikuning, the small village situated above the southern shores of Lake Bratan. The village is also centre of many sight in this area, and probably you won't miss the opportunity to visit the Bali Botanical Garden in this village. This village is often passing by visitors without knowing that are so many things that you can see and do in this village.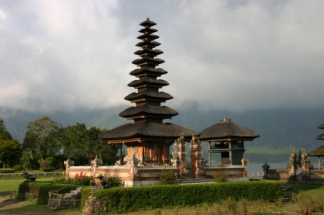 And there on the shores of the lake Bratan you'll find the temple with one courtyard, Pura Ulun Danu
This is one of the most important temple in Bali after Pura Besakih,on the slopes of Mount Agung.
The temple is fascinating, surrounding by the frequently mist, added the mysterious atmosphere. It's like that temple floating on the lake.
Because of the location high up in on the mountain, the temperature is cool and pleasant.
This is truly a romantic place with breathtaking sceneries.
Basically this temple built on the island in 17th century by King of Mengwi.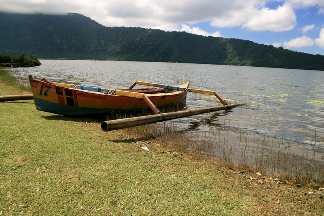 Perahu on the shore of Lake Bratan
It's possible to hire a boat or perahu to paddle across Lake Bratan from the lakeside to discover some caves which used by the Japanese during WW II.
Great Lake and the mysterious temple. One day to visit this place is really worth it. I think you would be agree with me.
Feel the sense of Bali temples

Return from Pura Ulun Danu to Bali temples

Homepage