Puncak
a lovely village
Puncak, a nice village, located between Bogor and Bandung, near Cisarua at 2900m above sea level, that makes this village a pleasant place to do some walking or a short break.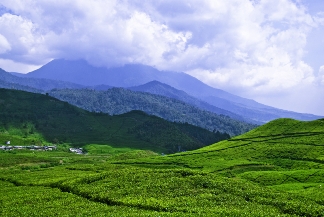 Magnificent scenery of tea plantations
This place is very crowded in the weekends by people from Jakarta who return from a short weekend on Bandung. If you're coming from the heat of Jakarta, that's makes this village really a refreshing place.
Avoid weekends if you don't want sit in the traffic jam.
The roads to to this village is narrow, passing rice terraces and tea plantations with magnificent view over the surrounding landscape.
Many people stop in this place, to enjoy the superb view or having a lunch or diner.
Restaurant Rindu alam, where we spend our midday when we returned from Jakarta has a beautiful view over the surroundings. There are also special sit place where you can enjoy your meal and at the same time enjoy the view.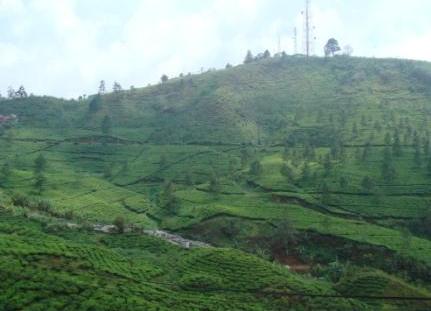 The view from Restaurant Rindu Alam
nice view, is'n'it?
Too bad when we get there, the sit places already taking by another guests. Don't miss out; this is one of the busy restaurants in Puncak. Because of the view and also because of the taste of the food, they're really delicious, but don't look at the restaurant itself, it's just a simple and nice restaurant.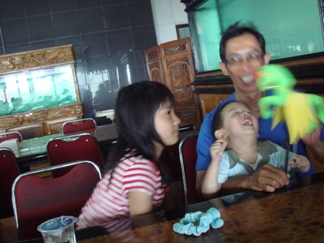 My son playing the horse toy with my brother, David and his daughter, Renata while we're waiting of our lunch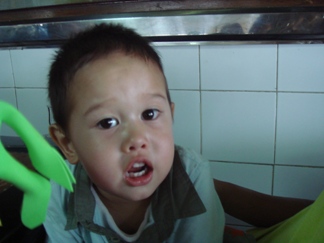 Dont'take my play toy away, said Nathan
You can get any food you like here in this restaurant, from Sundanese food like Sayur Asem or pepesan fish, or do you like satay? They have excellent satays. Or try some shrimp, they have even the big ones. You must try it, it's very yummy.
This village is also the place where you can buy fruits; there is enormous choice of them. And they're mostly cheap. Always doing some bargain, maybe it's not really working if you're a tourist, but you can try it, isn't it? It's worth it.
And not so far from Puncak, you can visit the beautiful Cibodas Botanical garden. And if you love backpacking the Mount Gede-Pangrangro National Park maybe something for you.
Would you like to spend more days in this lovely village, stay in Bandung.

And by the way you can shopping and enjoy the beauty around the city.


Return from Puncak to West Java

Return to homepage