Lembang a town
nearby the volcano
Lembang is a tempting area after hiking and walking around the volcano, and we are exhausted, hungry and thirsty. Can you imagine that? The loveliest thing at that moment is a delicious ice cream on this nearby city.
We couldn't wait so we're hurry to get in the town which makes our journey to this town really exciting, the way down…
When we were arrived, I have to be disappointed. The ice cream has to wait. Our stomach is more important, it has to be filled first before we jump to delicious and marvelous and famous ice yoghurt.
So we came to Ampera Restaurant, which are very simple … but o boy, you don't want to believe that but that's the most delicious dish that I've ever taste since we arrive in Bandung.
You might be curious right now, what I have on my menu?
So here is my menu: Baked chicken baked salted fish, baked tempeh and tofu, raw vegetables and sambal. Not pretty special, isn't it? But I have the most tasteful meal. It's reaaaalllllly delicious.
And now is the time for the delightful ice cream…
But oh no …. My sister tell me we have to go buy tofu first or else nothing is left and we couldn't bring it back to our home town in Bandung for my other sister that left behind because it's already late … So I couldn't let that happened and we were hurry again to prevent that.
Unbaked Tofu
Lucky for us the tofu is still abundance, so we buy as much as we can, because we are all love baked tofu from Lembang, it has an unique taste which we keep eating and eating until our stomach getting protest. So for that reason regardless the busy visited store, we're waiting patiently for our turn…..which are very boring, so I looked around, make some photo's…..
While we're waiting for the tofu, by accident we see the street vendor selling bajigur (beverage with coconut milk and very hot), and because it such a long time ago that we proof this beverage, we couldn't resist the temptation. Our stomachs are going to protest again…
And finally after long wait and fully stomach we're going to the ice cream store, which is not so attractive anymore after the ampera and the bajigur…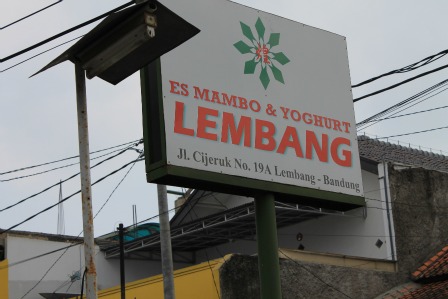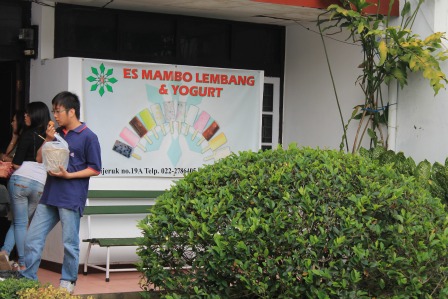 Anyway we're going to the ice cream and yoghurt store, which we have to loudly speak because it's so busy in there, but we get what we want. There are lot choices such as durian ice cream…. Mmm tasteful… ketan hitam (black sticky rice)... this one you have to proof it... it's really unique. And the lovable sirsak (Indonesian fruit, which the leaves are very good for your health, such as cholesterol, cancer, high blood pressure, we talk about this later, the page are coming up…)
The location between these 2 places is not far, you can walk from tofu seller to yoghurt store about 5 minutes, cross over the way and you've been there.
Roasted Sticky Rice Seller
After Ice cream, one thing left that we have to do in Lembang, the fruit and roasted sticky rice with sambal oncom, my favorite…. Try it, I bet you would like it.
There are enough street vendors to buy them, choose wherever you want…
Lembang is also home for the fruit markets, where you can see and buy any fruit you like. It's a great to see all that fruit. I like to buy all of them, too bad I have a little stomach. It's impossible to get everything. So I take pleasure with a little bit of them…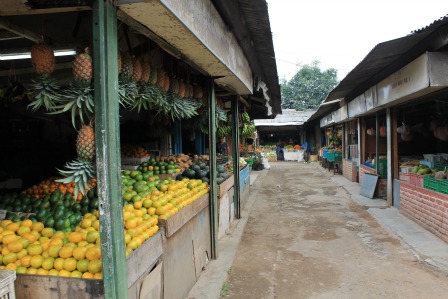 Fruit Market
You might be wondering right now, how much we can take it in our stomach, all that food ……
Yes, we love food very much, but you know, life is only once, just enjoy it, by the way we don't getting fat with all that food… as you can see we are still slim…. He he
In this fruit market, there is also a small street vendor sell some souvenirs. It's not wrong to look around, maybe you would find something you like here.
Souvenir shop
There are enough hotels around this this town. It's pleasant to stay overnight here, with the cool area and magnificent view if you choose the right hotel.
We don't stay overnight here. We aren't looking hotel also. Bandung is about half hour drive from lembang, so we decided to go home. Home sweet home.
Back to Tangkuban Perahu
---
Back from Lembang to Bandung