Eating out
in the restaurant
Kampung Daun
This is our experience when wé were eating out in Kampung Daun.
It was Renata's 10th birthday and the day before we leave our family behind again in Indonesia.
It was a beautiful day and also the sad day for us, last day in Bandung, my birth city.
And we decided to make a party on this day, also to celebrate Renata's birthday.
Renata is my cousin, the daughter of my brother David.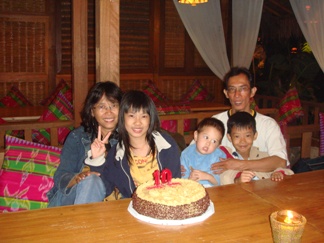 David's happy family with my son, Nathan
So we're going to Restaurant Kampung Daun to celebrate her birthday and also our last day in Indonesia with our family.
We were with 13 peoples in the car, can you imagine that? Yes, the car is full, very very full. But we're having so much fun, laughing together, the feeling that we're together with the whole family, give us warm feeling inside.
It took a little while before we get there, my sister live in jalan Baladewa, Bandung, not so far from the central of Bandung, so it took us one hour before we get there.
This is really a lovely restaurant, you can see it before from the outside, with so many lights, pretty nice view.
The finest thing about this restaurant is that you could stay in one room with the whole family without another guest around it.
Another guest gets another room. So if we make noise or hard laughing, we don't disturb another guest who wants to enjoy the silence because we have pretty busy family, ha ha, I'm just kidding, we're not so loud….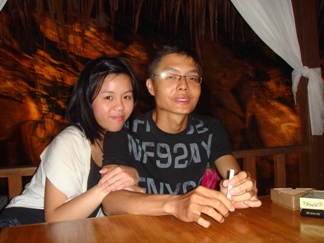 Ronald, my cousin and his girls friend, Melissa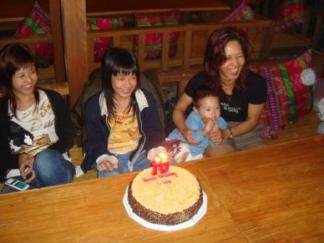 So, let's have a party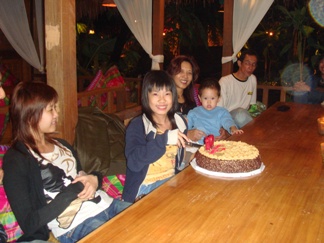 Ok, ready to cut the cake
The party was a great success, we're having so much fun in the restaurant and Renata gets her first birthday party.
And Restaurant Kampung Daun is an excellent restaurant who provides any kind of Sundanese food, or if you want something else like western food, just asks the crew, they can show you what you can get in this restaurant.
For an example my cousin Monik had ordered the grilled ice cream, it's delicious. But it's not really a typical Sundanese desert.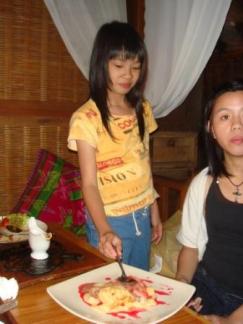 Look out Melissa, somebody try to steel your ice cream....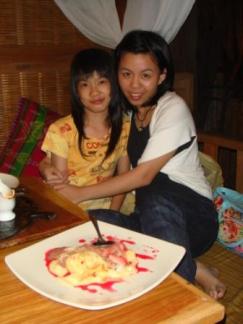 Melissa and Renata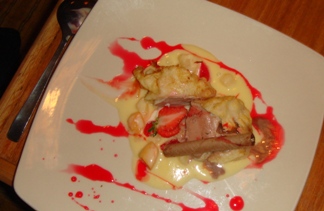 Grilled ice cream


It was late before we came home, but the feeling that we're doing something together makes my hearts full of joy.
Return from Kampung Daun to Bandung page

Return to homepage